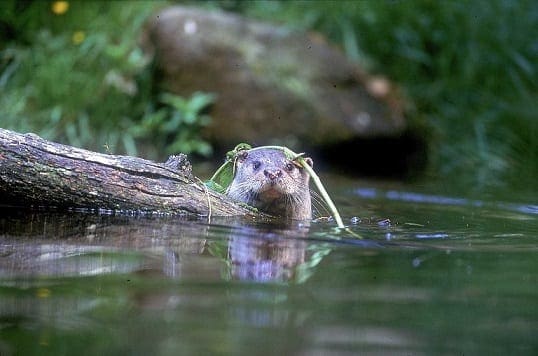 VOLUNTEER otter spotters are being encouraged to get involved with the biggest ever survey into populations of the much-loved mammal on canals in the West Midlands.
The Canal & River Trust is appealing for help building a picture of the region's otters and their behaviour. 
Since the 1950s the number of otters on Britain's waterways have been in decline, due to a combination of habitat loss, persecution and the use of pesticides. However, otter numbers have been making a comeback in recent years due to better water quality and efforts to improve their habitats. Otters have very large territories and their presence is a real indicator of a thriving waterway.
The Trust, with help from students from University of Birmingham, has been running a similar survey for the past two years but this year they're appealing for more volunteers to lend a hand. Previous surveys have shown otters working their way into the centre of Birmingham with one confirmed sighting on the Soho Loop.
The surveys will take place over the middle two weekends in February and involve walking a stretch of canal looking for signs of otters. In particular, volunteers will be looking for otter droppings, known as spraint, and 'latrines' – areas where the animals mark their territory. They'll also be building a picture of the potential for otters by making a note of features such as the amount of vegetation cover, the width of the canal and the variety of plant species visible on the bankside.
On the second weekend (February 16-17) volunteers will be asked to collect spraint so that it can be sent off for DNA analysis to confirm that it's from an otter and whether it's male or female.
Tom Wilding, environmental assistant for the Canal & River Trust, said; "It's not often that we describe volunteering for the Trust as a load of poo but that's exactly what this opportunity is – looking for the otter spraint and other signs which show they've been in the area.
"If you're really lucky you may get to see one of these secretive creatures but more than anything this is about detective work and that's the really exciting bit. There's a real thrill when you spot signs of otters where they haven't been seen before such as on some of our more urban canals. It's also a great opportunity to get a bit of fresh air and exercise as well as getting to meet new people.
"The fact that we're even talking about the possibility of otters on the West Midlands' formerly industrial canals is incredible and a real testament to all the hard work that's gone in to improving water quality in the region. Today these canals are vital green corridors which provide countless habitats for wildlife as well as giving local people beautiful spaces to escape to."
The surveys take place over the weekends of February 9-10 and 16-17 . No experience is required as a short training session will be given. Anyone interested in helping out with the survey can register their interest by emailing thomas.wilding@canalrivertrust.org.uk
To find out more about the work of the Canal & River Trust, including how you can support through volunteering or making a donation, go to www.canalrivertrust.org.uk
Comments
comments