SINCE the launch of Valiant Fireside's new Moisture Meter with colour change technology, sales have rocketed.
Bob Sizeland, managing director of Valiant, commented on the product's success: "We are delighted with the reception our new Moisture Meter has received. I think the popularity of this product highlights a real need among customers to get the best burn from their timber – not just on an efficiency level but also in environmental terms.
"Burning seasoned wood reduces chimney deposits and environmental pollution. The new colour change technology makes it even easier to ensure you are burning seasoned wood."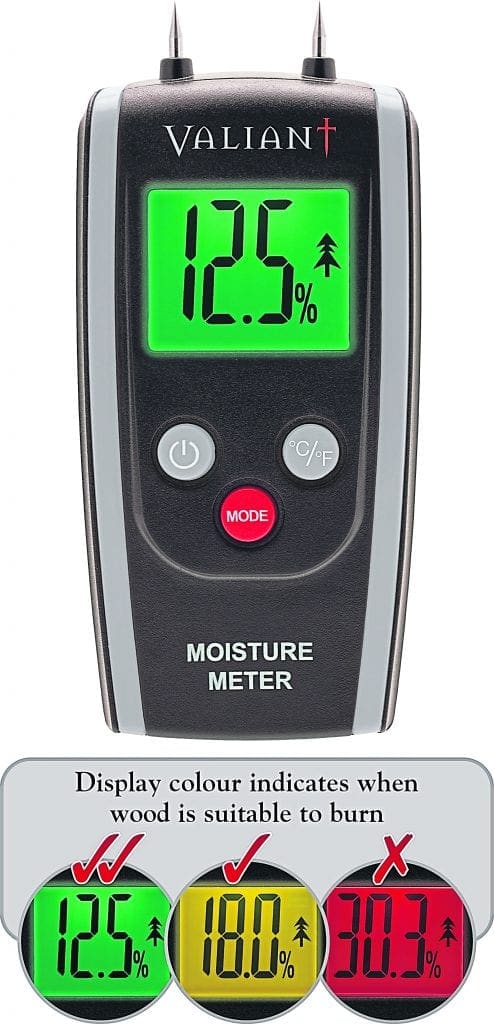 Portable
The Moisture Meter is 110mm tall by 50mm wide, making it conveniently portable with the ability to read moisture levels in structural timber and brickwork as well as wood fuels. It also shows the ambient temperature in Celsius or Fahrenheit.
Its key feature is a unique colour changing backlit display which makes it visually easier to detect when the wood is suitable to burn. The Moisture Meter comes complete with a protective storage bag and has a 12-month Valiant 
manufacturer guarantee.
Fuel quality is the single most important aspect of making a successful fire. To burn effectively the moisture content of firewood needs to be less than 20%, whether it be an open fire or in a stove. The Moisture Meter reads moisture content by percentage to within a decimal point, giving you an exact reading of how seasoned your wood is.
Deposits
For narrowboat owners, the Moisture Meter is a practical way to reduce chimney deposits in your flue. In a standard house, the flue of a wood-burning stove is typically 5-6in diameter and 4.5m tall. On a narrowboat the flue diameter is smaller, often measuring in at 4in diameter and, of course, a lot shorter in height (approximately 2m).
The reduction in flue sizes on narrowboats means chimney deposits build up faster. Burning fully seasoned wood, that has a moisture content of less than 20%, will reduce your deposits, smoke and the risk of a fire.
Valiant is based in Hertfordshire and offers a wide range of stylish and practical accessories for all your fireside needs. Valiant is committed to offering customers innovative, quality and sustainable products.
---
For further details and to order the new Colour Display Moisture Meter, please visit www.valiantfireside.com or email sales@valiantfireside.com
---
Comments
comments