A £175,000 towpath improvement project led by Wakefield Council in collaboration with national waterways and wellbeing charity Canal & River Trust has been completed, giving pedestrians and cyclists an improved off-road route along the Aire & Calder Navigation between Knottingley and Pontefract.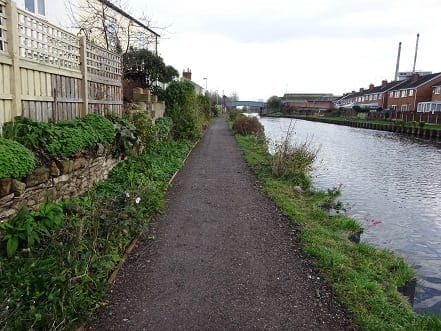 The scheme, funded by Wakefield Council and part of the 5-mile Pontefract Knottingley Connect route, has enhanced 1.4 miles of the towpath from Forge Hill Lane to Marsh Lane.
Work began last September, with the councils highways team using carefully selected recycled and graded materials to produce a finished surface in-keeping with the surrounding environment, and taking great care to retain the visual appearance of features such as Cow Lane Bridge steps, whilst improving accessibility.
The team also worked closely with volunteers who care for "Freda's Garden" – a stretch of towpath between Cow Lane Bridge and Shepherds Bridge which was originally planted by local resident Freda Turner. Freda, who is sadly no longer with us, lived in a small house by the canal and treated the towpath as her garden, planting roses and wild flowers to create a blaze of colour that everyone could enjoy. Freda's Garden is now a local landmark and is well known and loved by everyone who uses the canal.
Coun Matthew Morley, Cabinet Member for Transport and Highways at Wakefield Council, said: "The improved towpath is great news for anyone who wants to enjoy the natural beauty our countryside and waterways have to offer.
"We are committed to our environment and offering local residents the opportunity to enjoy their surroundings. We will continue to invest in the district to ensure this happens."
Jane Thomson, enterprise manager at Canal & River Trust, said: "We're delighted to have partnered with Wakefield Council to improve the towpath along this stretch of the Aire & Calder Navigation and enhance access for walkers, joggers and cyclists.
"We hope it will encourage more local people to get out by the water and enjoy the benefits of fresh air, watching the wildlife, and taking time to relax, and also benefit boaters using the waterway."
To find out about how Canal & River Trust helps care for your local canal and how to get involved by volunteering, visit: www.canalrivertrust.org.uk
Comments
comments