FOR societies and groups in the north west interested in Britain's industrial and maritime history, the touring team of the "Danny" is aiming to reach its 100thpresentation in 2019 – only four years after its formation.
The Daniel Adamson Preservation Society has completed some 75 talks, with the main customers being the University of the Third Age (U3A) and historical societies, but even wine clubs and vintage car groups have been enthralled by the story of this steam ship's restoration.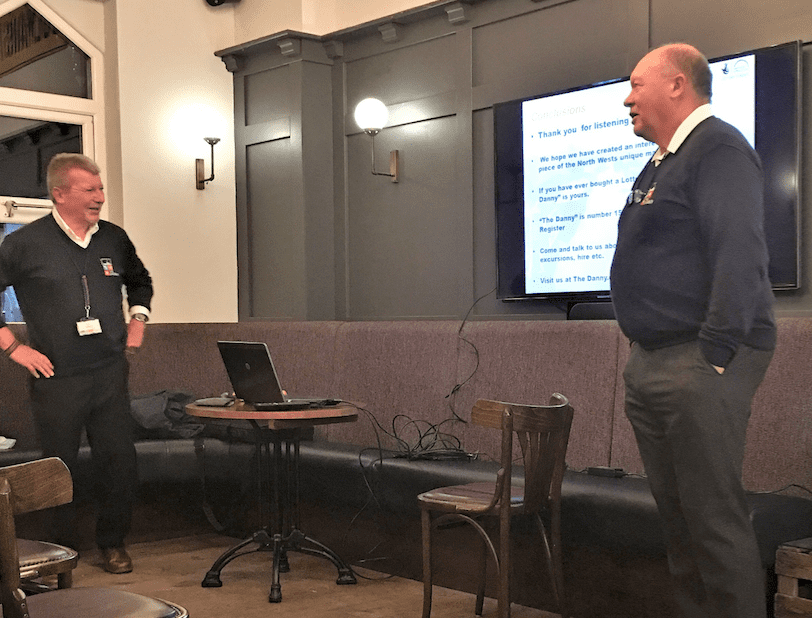 The 45-minute presentation features the 1903 steam ship in archive film on the Manchester Ship Canal and tells the story of its £5 million Heritage Lottery Fund-supported restoration since 2004.
Audiences of up to 150 have been impressed with the work of the volunteer labour force and many have gone on to visit the vessel, currently on the River Weaver. 
An expanded team of 10 presenters and support volunteers is available, including a BBC commentator, a retired river pilot, senior managers from industry, ship canal tug men and even a former professional rugby league player.
The team covers a wide geographical area, which reaches Stoke and Shrewsbury to the south and parts of Cumbria in the north, while even parts of West Yorkshire are in the catchment area.
Focussed on both raising funds and marketing the vessel, the team aims to encourage individual and family visits while offering group customers a unique experience.
Additionally, prompted by the many archive photographs of the Manchester Ship Canal and a number of customer requests, a new Manchester Ship Canal presentation has been developed and is now ready to launch.
Some people on the volunteer teams that work on the "Danny" are former ship canal employees and they have contributed a great deal from their experience.
Again, this will be a 45-minute presentation with early photographs and archive film kindly contributed by local waterway experts.
In addition to touring the north west, the presenters are available to meet organised groups touring the vessel and give a shortened 15-minute talk on the history of the "Danny" as a component of the event.
For details contact sheila.leonard@danieladamson.co.ukphone 01928 576967.
Comments
comments