Thomas Telford Through Time by John Christopher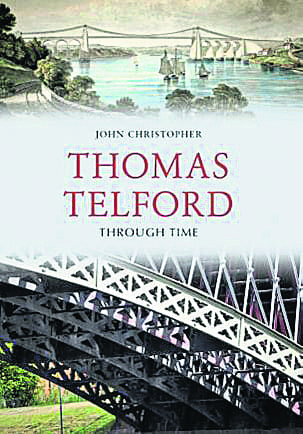 Reviewer: Kathryn Smith
Thomas Telford Through Time, John Christopher's highly illustrated book on Thomas Telford's achievements condenses the passage of centuries as we view his great works, then and now, through a combination of old and new photographs, illustrations, diagrams and post cards.
The author expresses his intention to document the work's "history, their architecture… changes… and something of the day-to-day life of these structures." Over the 96 pages, many of which contain multiple images, the book offers different perspectives on works such as the two great aqueducts on the Llangollen Canal using 17th century cross-sectional plans, illustrations and contemporary photographs.
Telford's work extended way beyond the waterways and over the eight chapters the book documents his early and late works, road building, Scottish schemes, bridges, harbours and docks. While the chapter divisions can seem a little forced at times the book gives a broad flavour of his achievements, inspiring those with specific interests to delve a little deeper into his work.
Even the casual reader will find themselves marvelling at the audacious way Telford forced his vision across inhospitable terrain, from the Caledonian Canal slashing a route across Scotland to the more diminutive, but no less impressive, bridge at Invermoriston fused on to the natural rock that spans the falls below.
This is by no means a comprehensive biographical account or technical guide to Telford's work but through its use of clear well-printed images, backed up by incisive and well-researched captions and text, it offers an interesting and very accessible introduction into the achievements of one of our great engineers.
Thomas Telford Through Time by John Christopher is published by Amberley (paperback, 96 pages, £14.99) and is available from www.amberley-books.com ISBN: 978-1-4456-5781-3
Comments
comments