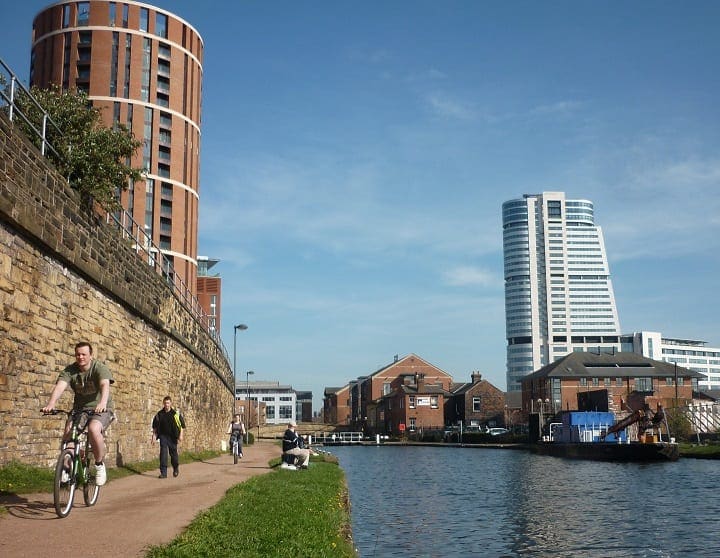 A NEW report by Sustrans sets out recommendations for an overhaul of the National Cycle Network to open up walking and cycling to more people, including children, and anyone with impaired mobility
Over half (57%) of the UK population lives within a mile of the National Cycle Network, but major improvements for access and safety are needed to open it up to everyone, including children, wheelchair users, those riding non-standard cycles and the less physically active.
The call is made by Sustrans, the walking and cycling charity, as it launches the first review of the 16,575-mile Network.
In its Paths for Everyone report, the charity unveils the current state of the 23-year-old network and a long term plan to make it traffic-free and tackle physical problems.
These include poor surfaces and barriers that prevent access for users, particularly those with adapted bikes or prams.
Only 54% of the Network is currently suitable for a 12-year-old to use safely, a road safety benchmark set by the UK Government.
Just over a third of the paths on the Network (32%) are separated from motor traffic providing safe spaces for people to walk and cycle. However on-road sections account for 68% of routes on the Network and include nearly 2000 miles of busy A and B roads.
An online survey of 5965 people showed overwhelming support for the network, with 81% of the respondents saying they want paths built away from cars where everyone feels safe to travel.
Launching the report at the Houses of Parliament, Xavier Brice, CEO for Sustrans said: "We want to build on its success and make the Network safer and more accessible for everyone, not just for people who currently use it.
"However, historic problems such as poor surfaces, incomplete signage or barriers mean that for people with mobility issues or those of us who are less physically active, there may as well be a 'no entry' sign on their local path."
The Paths for Everyone report is the conclusion of a major review and independent audit commissioned by Sustrans. It sets out 15 recommendations for local authorities, private and charitable landowners, national governments and agencies, to transform the Network, including:
Removal or redesign of 16,000 barriers on the entire Network to make it accessible to everyone, especially those facing mobility challenges;
Doubling the number of paths away from cars, from 5000 to 10,000 miles and diverting all routes off busy and fast moving roads onto new quiet-way roads;
Improving safety at junctions where the Network crosses roads and railways;
Improving signage so everyone can follow the paths without a map or smartphone;
Adopting a new quality design standard for paths, including width and surface so all routes are classed as 'very good' or 'good' by 2040.
The charity, which owns 500 miles of the network, has estimated the overhaul will double the number of people travelling actively – be it on foot, by bike or in a wheelchair – up to 8.8 million, totalling a £2.8 billion investment over the next 22 years.
Paths for Everyone is available on www.sustrans.org.uk/pathsforeveryone   
Comments
comments