VOLUNTEERS are to play a vital role in maintaining Aston Locks Nature Reserve on the Montgomery Canal, near Oswestry, thanks to a new partnership between the Canal & River Trust (CRT) and Shropshire County Council's Wild Team.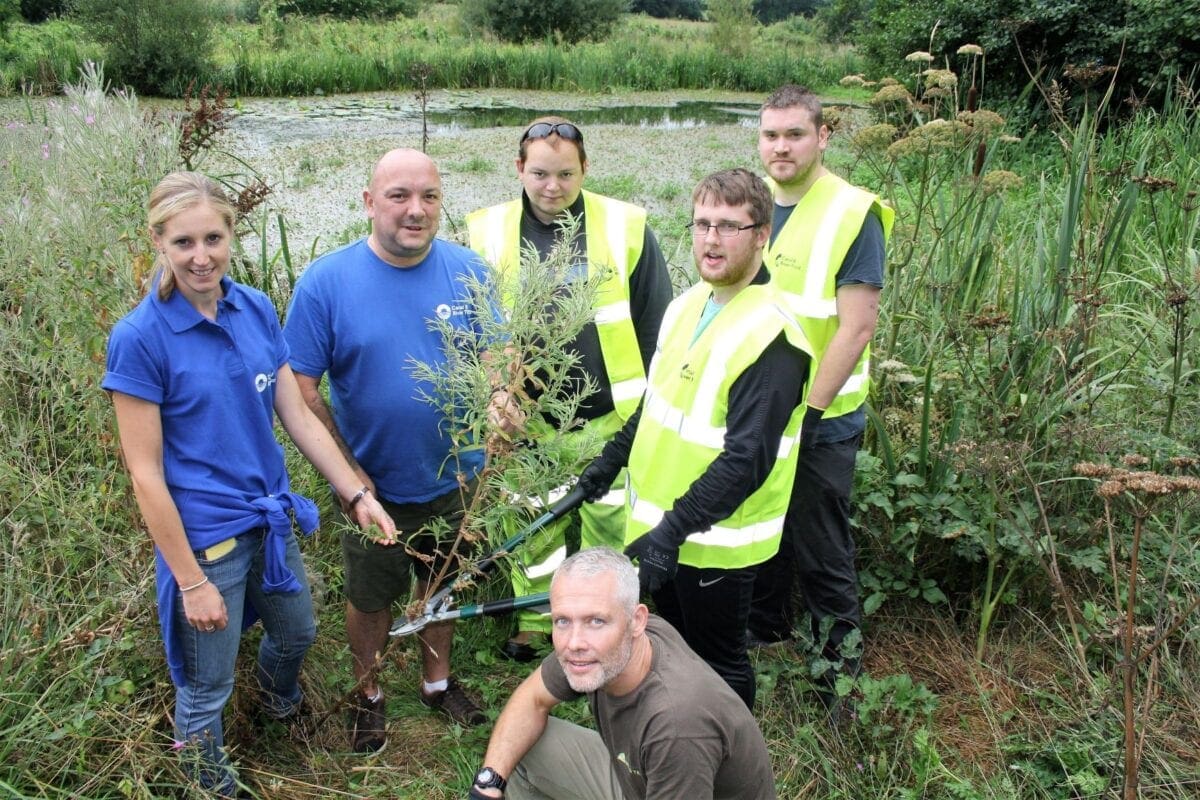 The Trust is working on a major £4 million project to restore a section of the Montgomery Canal on the Shropshire/Welsh border. This involves the creation of two new large pools next to the Aston Lock flight, as well as enhancement of an existing series of ponds and habitats close to the first lock – collectively forming the Aston Locks nature reserve complex.
Volunteers from the Shropshire Wild Team will be making regular visits to the existing pond to cut back overgrown vegetation, clear paths and monitor the rare aquatic plants and animals which are being encouraged to create a new home at the reserve, away from the canal.
The Wild Team, supported by public health funding, provides outdoor volunteering opportunities for people across Shropshire.
Simon Brown, Wild Team development officer, said: "This is a fantastic project which benefits both volunteers and the local environment. Volunteers are normally referred to us because they have issues with mental health, social isolation, long term unemployment or learning disabilities. Many of them are inactive and this project may be one of the few times they venture out of the house each week.
"Our aim is to do genuine, useful work and improve green spaces around the county, while giving the volunteers a purpose and boosting their self-confidence. We can often find some people may be nervous or even quite withdrawn when they first join, but within a couple of weeks we see they are talking and laughing along with everyone else in the team. Many people really seem to turn a corner and begin to realise their self-potential. We have even had a number of our volunteers go back into work."
He added: "This project to support the Montgomery Canal restoration is a great opportunity to make a real difference. We're delighted to be working with the Canal & River Trust to maintain the nature reserve."
Craig O'Brien, volunteer leader with the Canal & River Trust, added: "We are very grateful to Simon and the Wild Team for their enthusiastic support and valuable contribution. We hope the volunteers will find inspiration in this beautiful place and gain useful skills for the future."
The main restoration projectis being funded by the Heritage Lottery Fund (HLF) and Shropshire Wildlife Trust's Freshwater First ERDF Programme, supported by the Montgomery Canal Partnership, and delivered by the Canal & River Trust. Only around half of the canal is currently navigable but, with the help of Shropshire Union Canal Society volunteers, this latest major phase should be completed by 2020.
Funding for the restoration programme was announced a year ago and since then good progress has been made towards upgrading nearly five miles of towpath, restoring 1¼ miles of the canal to navigation from Maesbury to Crickheath and creating a dedicated turning point for narrowboats, known as a 'winding hole'. This will enable boats to return to the area for the first time since 1936 when the canal was closed.
Comments
comments