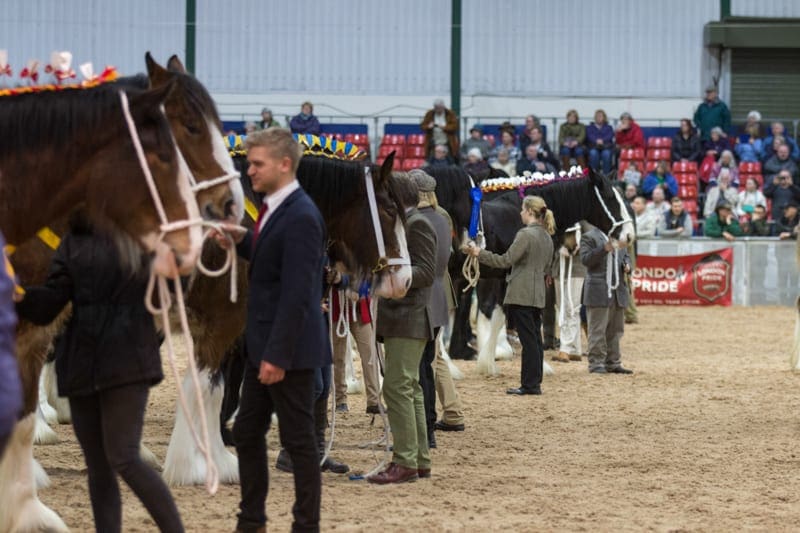 MORE than 250 pedigree Shire horses are expected on the Staffordshire Showground for the world's largest gathering of the working breed.
Organised by the Shire Horse Society, which will be celebrating its 140th anniversary in 2018, the event  from March 16-18 is a great day out for fans of the magnificent gentle giants of the horse world.
Visitors can watch the iconic breed being put through its paces in-hand, ridden and in harness – with the chance to find out more about Shire horses and their role throughout history.
New for 2018 is the ridden quadrille – a choreographed ride to music which is often compared to an equestrian ballet.
"This will be the third year that we have held the National Shire Horse Show at Staffordshire Showground and we look forward to welcoming visitors and competitors to the event, which is regarded as the largest gathering of Shires anywhere in the world," said Shire Horse Society secretary Victoria Clayton.
"The show has been held at a limited number of venues in England over its long history, and is believed to be one of the oldest, almost continuous, horse shows in the world, having been held for the first time at the Royal Agricultural Hall in Islington, London, in 1880, when the charity was named the English Cart Horse Society.
Tickets for the 2018 show have remained at 2017 prices and are on sale via the Shire Horse Society's website www.shire-horse.org.uk
Adult tickets are £10 in advance or £12 on the gate, while tickets for children aged five to 13 years are £8 in advance or £10 on the gate are £10. Children aged 14 years and over are charged at the adult price, while under fives enter free.
Gates open on Friday March 16 at 8.30am and at 7am on Saturday and Sunday March 17-18.For more details and ticket information about the show, visit http://www.shire-horse.org.uk or follow @saveourshires on Twitter or at www.facebook.com/shirehorsesociety
Comments
comments