BRIDGE 19-40 Union Canal Society will be running Santa trips December 1-2 and 15-16, with four trips per day. Meet the great man onboard NB Bluebell, with refreshments for all and a gift for the children. Book via www.bridge19-40.co.uk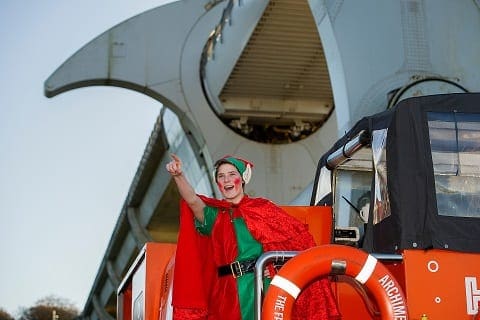 Families visiting the Falkirk Wheel in December can enjoy a boat trip on the wheel and a visit to Santa in his grotto. Children receive a gift, can have their photo taken with Santa and dance with the elves.
Boat trips run hourly during the afternoons of December 15-16 and 21-24. Booking essential. Visit www.scottishcanals.co.uk/falkirk-wheel
Alternatively, meet Santa with the Forth & Clyde Canal Society and Nonna's Kitchen in Kirkintilloch. Breakfast at Nonna's and then hop on board for a short boat trip on the Forth & Clyde Canal with Santa. Weekends from December 1-24. Booking essential. Telephone 0141 776 2777.
In Linlithgow, you can see Santa arrive at Linlithgow Canal Basin every day at 2pm on the weekends of December 15-16 and 22-23. Visit Santa in his grotto 2-4pm on these days. Age appropriate gifts, a boat trip for the whole family, and the LUCS (Linlithgow Union Canal Society) tearoom will be open. Visit www.lucs.org.uk for information.
Re-Union Canal Boats will be running Santa cruises on board Lochrin Belle, leaving from Edinburgh Quay December 1, 9, 16 and 23, at various times. Visit www.re-union.org.uk for more details and to book.
Comments
comments