An ongoing campaign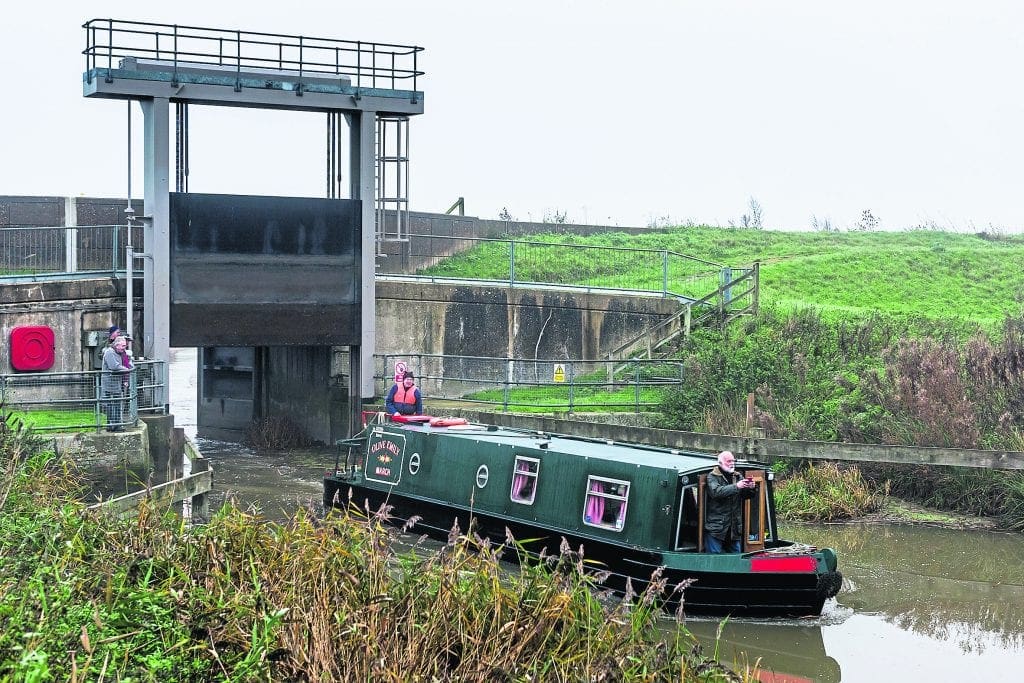 A SUCCESSFUL attempt has been made by a narrowboat based in March, Cambridgeshire, to enter the Old Bedford River via the tidal doors at Salters Lode.
Skipper John Revell with 'volunteer' crew member David Venn negotiated his craft nb Olive Emily the short distance from the lock at Salters Lode into the shallow and muddy channel leading to the tidal doors of the Old Bedford sluice.
On hand to open the tidal doors, on behalf of the Environment Agency (EA), was the Middle Level, Salters Lode lock keeper, enabling Olive Emily to enter 
'on the level', that is to wait for the tidal River Great Ouse to equal the level of the Old Bedford.
This was John's second attempt in 2015 to navigate the Old Bedford, one of Britain's oldest artificial rivers constructed between the years 1630 and 1636, that predates the English canal system by 100 years.
Although still retaining a Public Right of Navigation, it hasn't been available or used as a through navigation since 2006 when the EA, concerned about flood risk, suddenly sealed the channel with a cofferdam at Welches Dam Lock. This action effectively prevented boats from using it to reach the 40ft navigation on the Middle Level.
John's first attempt back in September, in the company of Roy and Lois Parker in their cruiser Marie II, was unsuccessful but the Parkers triumphed on that occasion making theirs the first passage for several years through the Old Bedford sluice. They cruised for a mile southwards before eventually being stopped by weed.
"This latest attempt to again navigate the Old Bedford was to show that it is still possible to access the waterway in a narrowboat," said John. "There was enough depth of water at the start to collect more crew and we set off hoping to reach the Lamb and Flag at Welney. However just over a mile into the trip the river became shallower and the propeller began to collect masses of cottweed bringing us to a complete standstill. We turned around using poles and slowly made our way back to the Old Bedford sluice.
"This trip proved once more that it will remain difficult to reach Welney or Welches Dam lock until the Environment Agency takes action to make this river navigable again. It is not rocket science. They could increase the depth of water in the river, they could dredge and they could remove the cottweed," he added.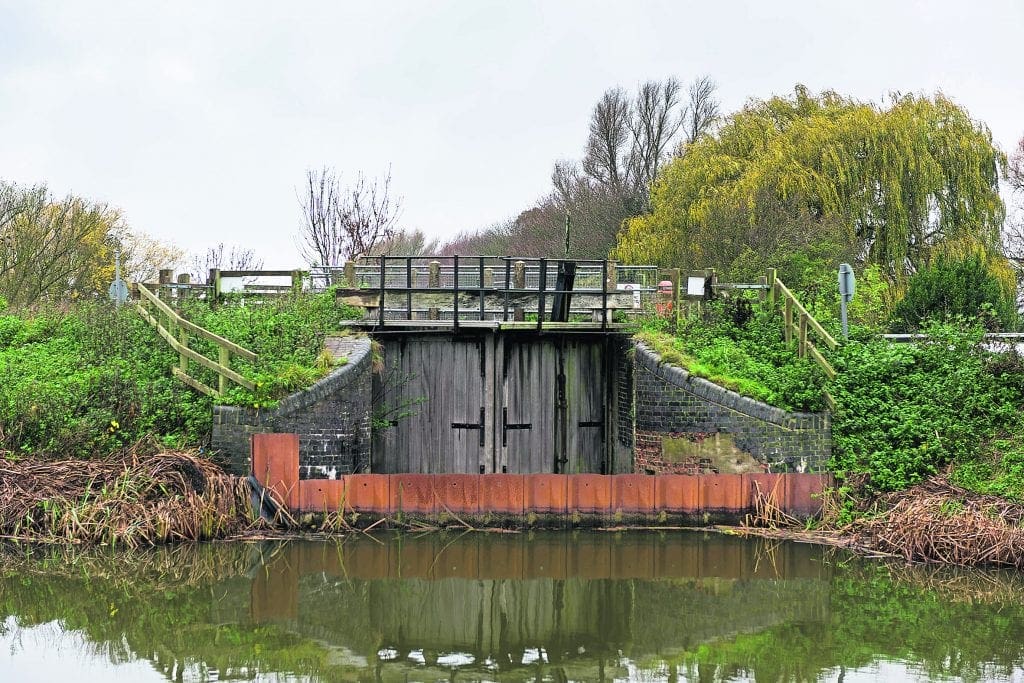 New partnership
Looking on from the river bank were Roger Mungham and Jeff Walters who along with David Venn, chairman of the Inland Waterways Association (IWA) Peterborough Branch, form part of the team running Project Hereward.
Project Hereward, first launched by the East Anglian Waterways Association in 1993, has empowered significant improvements to navigation on the Fenland waterways.
Recently a new partnership was forged between the EAWA, IWA branches Peterborough and Great Ouse and The Middle Level Watermen's Club. Project Hereward – Welches Dam to Horseway is a renewed campaign to reopen the vital Middle Level southern navigation link from the River Nene to the Great Ouse via the Forty Foot River through Horseway Lock and Welches Dam.
Currently the Forty Foot River between the two locks is totally neglected, overgrown with vegetation, with no fish and no boats. Using voluntary labour the cost of the work on the channel and the locks has been estimated at around £2.3 million. Happily in September an anonymous benefactor donated £10,000 to go towards the cost of restoring Welches Dam Lock.
To this end Roger Green, secretary of Project Hereward, has submitted a method statement to the Environment Agency on how they would proceed with an inspection of Welches Dam Lock to enable project engineers Andrew Storer and Roy Sutton to produce a full structural survey.
"Hopefully once everything has been agreed with the Environment Agency in principle and permission granted we could make some real headway and start to get on," said Roger.
Meanwhile plans are progressing far more rapidly with permission just having been granted by The Middle Level Commissioners for voluntary work to begin clearing the Forty Foot River approach to Horseway Lock. It will involve hand dragging the channel and clearing vegetation to a width of two metres and took just one month to gain formal agreement from the MLC.
The last words go to John Revell: "The Environment Agency may plead poverty but how is it that the Middle Level Commissioners manage their waterways without any income whatsoever from boat licences and boaters?"
Photos: Mike Daines
Comments
comments