FOLLOWING six very successful seasons on the River Great Ouse at Bedford with the John Bunyan boat, B&MK Waterway Enterprises are looking to run a passenger tripboat on the Grand Union Canal based at the new Campbell Wharf Marina.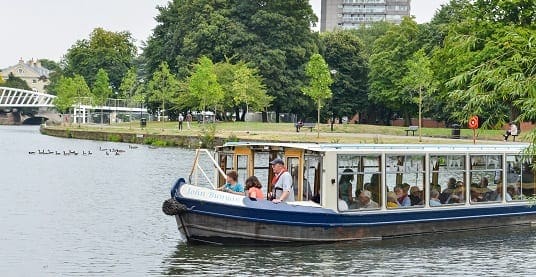 Graham Mabbutt, interim chairman of the Enterprise Board that runs the John Bunyan Boat cruises on behalf of the Bedford & Milton Keynes Waterway Trust said: "It is now time for us to expand our fund raising activities for the B&MK Waterway Park and having successfully run cruises at one end of the proposed waterway it is now time we started running cruises at the opposite end of the proposed waterway at Milton Keynes.
"We already have a sponsor that will help us float a boat on the Grand Union at Milton Keynes next spring, so we are looking for a passenger trip boat that may be available."
He explained: "In the short term we are looking for a narrowboat with a front open deck, and inside saloon for 12 people plus a toilet, galley area with a side hatch and if possible, an access lift/entry for people with disabilities. In the longer term we may well have a purpose-built narrowboat with a larger capacity."
If you have or know of a trip boat available please contact Graham Mabbutt at: graham.mabbutt@johnbunyanboat.org.
Comments
comments