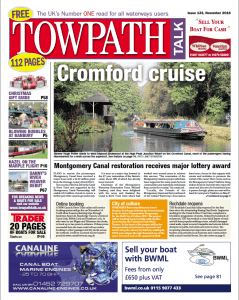 We may be hurtling headlong towards Christmas but there's still plenty going on along the towpaths and waterways of the UK.
Autumnal colours and seasonal mists provide a delightful backdrop to the November issue of Towpath Talk, which is packed with news, views and colourful photographs from festivals and a host of other waterborne gatherings.
There are top winterising tips from the Royal Yachting Association, book reviews if you're looking for that perfect present for a boating friend or relative, and a packed What's On guide to events this month… even Santa Special cruises! With a special gift guide and 20 pages of boats for sale, there's something for every budget. So pick up your copy now!
Comments
comments