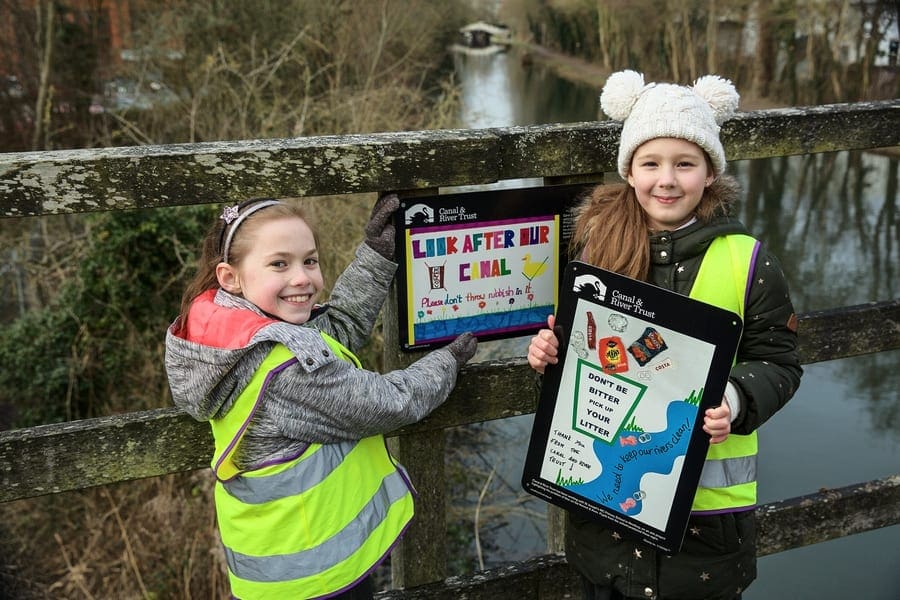 A GROUP of primary school children from Newbury have been working with the Canal & River Trust to encourage visitors to the Kennet & Avon Canal to stop dropping litter along the waterway.
Working with volunteers from the Canal & River Trust's education team, Year 4 pupils from St Joseph's Catholic Primary School learned all about how the waterways work and how they are looked after, and took part in a competition to design a sign encouraging visitors to take their litter home.
The two winning designs by Madison Slattery, aged nine, and Bethany Howell, aged ten, have now been made into permanent signs which have been put up at various places along the section of canal near London Road.
Caroline Robson, from the Canal & River Trust, said: "Our canals are not immune to the problem of litter and plastic pollution and it's about time that, as a community, we started to tackle this problem. Our waterways are fantastic places to visit throughout the year but the sight of litter along the towpath and floating in the canal can really put visitors off, make the canals look unloved and harm local wildlife.
"People living in Newbury are really lucky to have a wonderful canal right on their doorstep and it's important we all work together to ensure our waterways are welcoming places to come and relax and escape the hustle and bustle. With these lovely new signs, I hope it makes people think twice about dropping their litter and instead take it home or pop it in the bin so it can be recycled or disposed of properly."
Stephanie Kent, teacher at St Joseph's Catholic Primary School, said: "All the school children had a lovely time learning all about our local canal and what we can do to help the Canal & River Trust look after it. The competition to design new signs really grabbed the imagination of the whole class and I'm delighted we were able to help in some way to help keep our waterways special places to visit."
Comments
comments