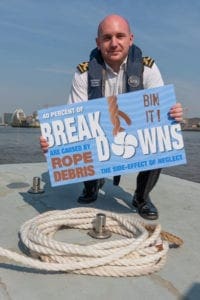 A BID to radically reduce the number of breakdowns on the Thames has been launched to coincide with Maritime Safety Week (July 9-13).
The Port of London Authority (PLA) has called on people taking their boats on the river to step up vigilance and avoid the "side effects" of neglect.
Over the two years 2016/2017, 120 breakdowns were reported on the Thames in central London.  Now the PLA has launched a campaign comprising four simple animations, to reach vessel skippers and owners, around a core message of what to look out for to ensure their vessels are in the best condition possible, before taking to the Thames.
The PLA's research shows that 40% of the breakdowns are caused by debris in the water – mainly ropes; 18% are caused by electrical faults (wiring and switch faults); 10% by overheating (largely failed water pumps); and 8% by fuel problems (for example blocked filters and contamination). Breakdowns can cause damage to vessels and piers, put crew and passengers at risk, increase congestion and result in a substantial maintenance bill for the boat owners.
The PLA safety campaign, which will be promoted via social media, is focused on these four areas with no-nonsense, simple messages, encouraging boat owners to "bin it", "check it", "cool it", and "clean it".
PLA chief harbour master Bob Baker said: "Through this campaign we are aiming to alert anyone who can have an impact on improving preventative maintenance and taking action on debris in the river, to the significant negative impact that neglect can have on the operation of all types of boats."
For more information on the campaign, visit www.pla.co.uk/Safety/Breakdowns A dedicated recreational river users website also provides useful information for those planning trips on the Thames: www.boatingonthethames.co.uk
Comments
comments