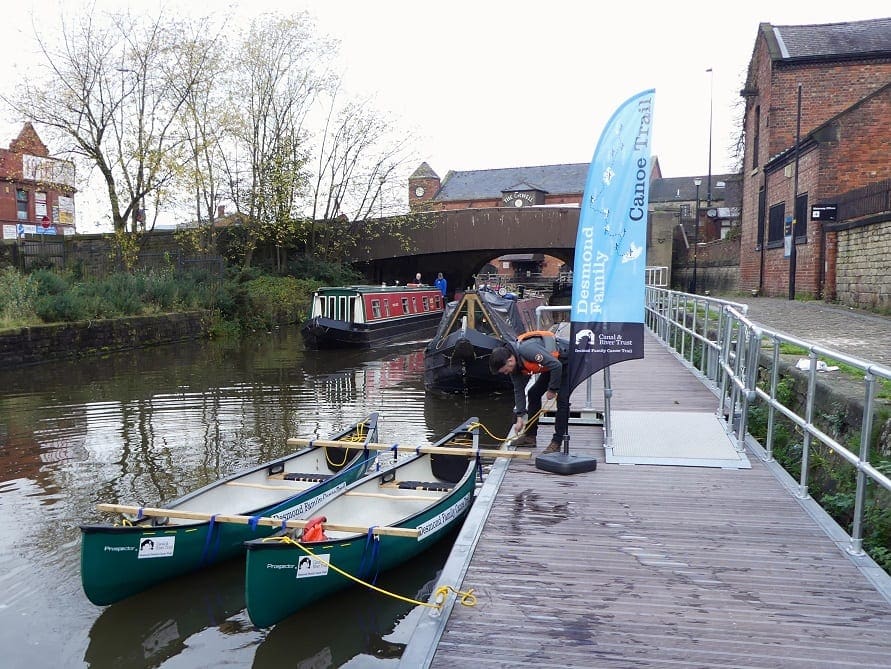 BOATERS and canoeists are set to benefit from a new £80,000 pontoon at Wigan.
This joint project between Canal & River Trust and the Desmond Family Canoe Trail programme is great news for boaters and canoeists exploring the historic Leeds & Liverpool Canal.
The 30m long pontoon is next to the trust's new office at Trencherfield Mill in a perfect spot for getting to the restaurants, bars and shops in Wigan town centre and to nearby transport links.  Twenty metres of the pontoon have been designed for boaters to use, with 10m built at a lower level suitable for kayaks and canoes.  The entire pontoon is DDA friendly.
Boaters will be able to moor on the pontoon for up to 24 hours.  There is a water point available in the vicinity and in the coming months the Trust is aiming to install a waste facility and CCTV.
The Desmond Family Canoe Trail is the longest of its kind in the UK, stretching for 162 miles from Liverpool to Goole along the Leeds & Liverpool Canal and Aire & Calder Navigation.  The pontoon will offer canoeists paddling the trail a convenient point to disembark and take a break at Wigan – about a quarter of the way along the route from Liverpool – and is next to the project's canalside Wigan hub on Pottery Road, where the team run canoeing sessions and activities for young people aged 16-25 years old
Greg Brookes, programme manager for Canal & River Trust's Desmond Family Canoe Trail, said: "We wanted to create a new hub on the 162-mile trail in Wigan on the Leeds & Liverpool Canal.  Wigan's perfectly positioned for canoeists to stop, stock up and relax in.  We wanted a new pontoon here to enable canoeists easy access both onto, and getting out of, the water.
"This pontoon is also an important resource for boaters who want to get to Wigan Pier and a place to moor during their visit to our office in Trencherfield Mill.  As a charity we are continually looking for opportunities to improve the waterways, with help from everyone who uses them, lives on them or visits.  This is a good example of the type of enhancements we can make if we work together."
For further information about the Desmond Family Canoe Trail and how to get involved please contact the team at: Coastto.Coast@canalrivertrust.org.uk.
Comments
comments