CANALSIDE Farm near Stafford will be holding a Murder Mystery evening on April 13, in aid of local charity Katharine House Hospice.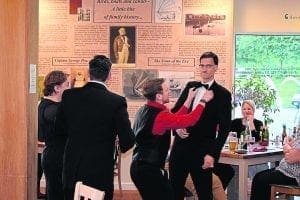 The event will start at 7pm, with the profits from each ticket being donated to the charity.
While trying to figure out 'whodunnit', guests will be served a main course and dessert, made with locally sourced produce, including fresh fruit and vegetables straight from the farm and meat from their butchery counter.
Chris and Wendy Barton, owners of Canalside Farm, said: "We very rarely open the cafe in the evening, but when presented with this opportunity we were more than delighted to help.
"We are always looking for ways in which we can support local charities and Katharine House is one that is very close to our hearts and is only a few miles away."
The hospice is situated in the grounds of Stafford General Hospital but is independent from the hospital and relies heavily on donations for the £2.9 million needed to run the hospice each year.
If you would like to attend the event, tickets cost £18 per person, which includes a two-course supper and must be pre-booked at www.canalside farm.co.uk
Canalside Farm Shop and Cafe opens every day from 9am-5pm and is located beside the Trent & Mersey Canal in Great Haywood (postcode ST18 0RQ). Contact 01889 881747 for further details.
Comments
comments