THE Minister for Culture, Tourism and Sport, Lord Elis-Thomas, has visited the Montgomery Canal in Welshpool to learn how Wales' former industrial waterways can play a vital role in improving the health and wellbeing of hundreds of thousands of people.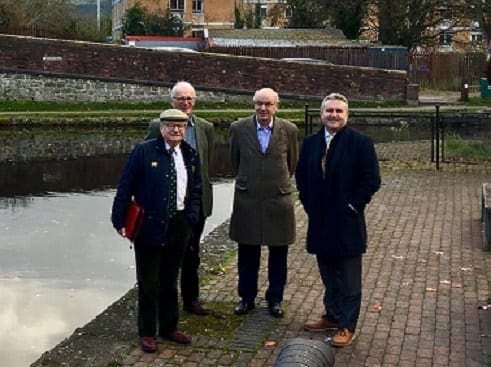 Accompanied by local Assembly Member and chairman of the Economy, Infrastructure and Skills Committee Russel George, he met with officials from Glandŵr Cymru – the Canal & River Trust in Wales – to find out how the charity is working to help improve the health, happiness and wellbeing of those living in waterside communities.
As part of the visit the Minister enjoyed a short walk on the towpath at Town Wharf and a boat trip with Heulwen Trust before visiting a photography exhibition at Powysland museum. The Heulwen Trust offers boat trips for children and adults who are less abled and have taken over 69,000 people out on their boats, enabling them to benefit from the canal in Welshpool
The visit was also an opportunity for the Minister to get an update from the Montgomery Canal Partnership on the Heritage Lottery Funded £4 million project to reopen a further two miles of the Canal, from Maesbury to Crickheath in Shropshire.
The project also involves the creation of a new three-hectare wildlife habitat within Aston Locks Nature Reserve, upgrade of nearly five miles of towpath and a comprehensive programme of community events and activities. The project will mean that, once finished, half of the canal's 35 miles will have been restored.
John Dodwell, chairman of the Montgomery Canal Partnership, said "We were glad to be able to tell the Minister why the restoration of the canal should be completed. The canal can provide a wealth of heritage structures and wildlife and wild plants for people to enjoy. Importantly, the revived canal will be able to enhance the tourism offer in this part of Powys and so bring in more people with their spending money."
For more information about the work of Glandŵr Cymru including how you can volunteer or donate visit canalrivertrust.org.uk.
Comments
comments