The magical time of year quickly approaches. At Mercia Marina, this means transforming into a destination of amazement and illumination as tens of thousands of lights are put up. Many canal boats and holiday lodges put out their best Christmas display to dazzle Derbyshire and beyond.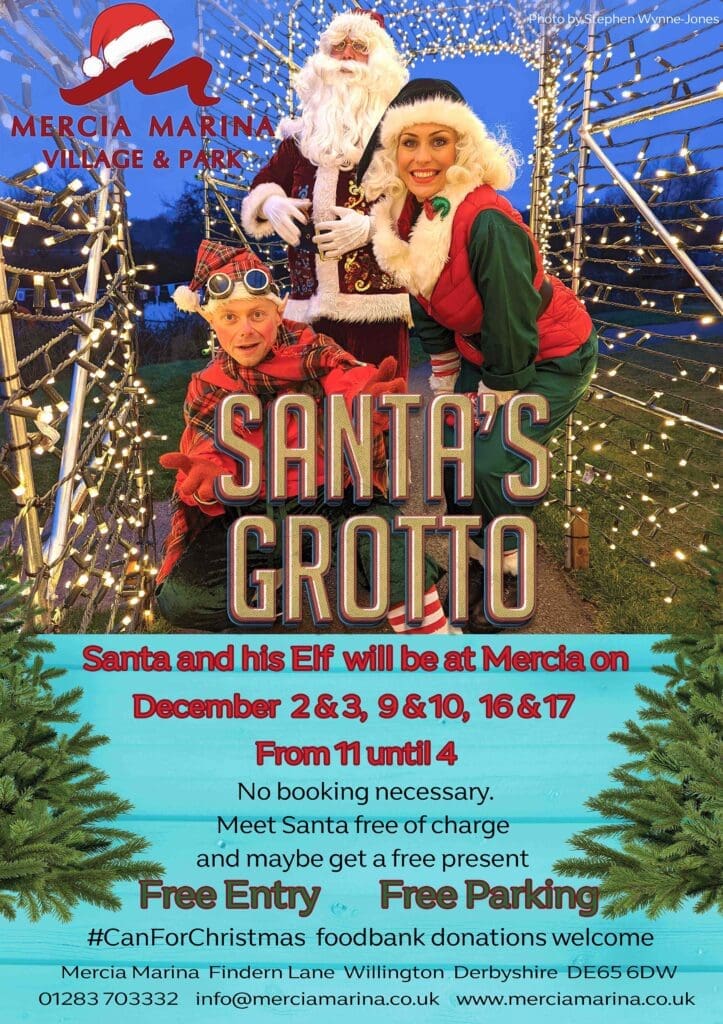 No Christmas display is complete with the big red fellow himself, and this year, the free Santa's Grotto is asking for kind donations from those who 'can'. The 'Can for Christmas' campaign hopes to see visitors to the Christmas lights display, Santa's Grotto, and Christmas late-night shopping event bring a can of food for the South Derbyshire CVS Foodbank appeal. This heartfelt initiative aims to provide much-needed resources to community members who need it most during the festive season. 
Santa will be seeing everyone at his marina grotto on 2,3, the 9,10, and the 16 and 17 of December between 11 am and 4 pm. Santa's Grotto is free of charge, no booking is required, and you might even receive a free present. 
To add an extra layer of delight, Santa has chartered the Mercia Swan, offering special Christmas canal cruises to visitors (at a cost). Upon their return, Santa has more surprises in store.
On Saturday, 2 December, shops, retailers, cafes and restaurants stay open until 8 pm for a special evening of late-night shopping with delightful tunes playing, boat trips running, and a stress-free shopping experience lit up like a Christmas tree. Independent shops will welcome customers with open doors, providing a hassle-free Christmas shopping experience without the burden of parking fees or entry charges. Rediscover the magic of Christmas at Mercia, where it's more than just a marina. 
Tony Preston, Sales& Marketing Manager, said: 
Article continues below…
Advert
"With so much happening in the world, from worry to doubt, debt, and crisis, we aim to lift spirits as high as possible. Our free grotto, where Santa and his elves bring smiles to all, is a testament to that. This year, Santa is also bringing his seasonal sea legs with Christmas Canal Cruises happening on grotto weekends, offering an experience like no other. We hope everyone will contribute by bringing a tin of food to fill Santa's sleigh for the South Derbyshire CVS foodbank at a time when it's needed most. Seeing the joy on visitors' faces, especially the children, as they experience the lights is heartwarming. We wish all our visitors a magical Christmas,"