A creative journey along the Staffs & Worcs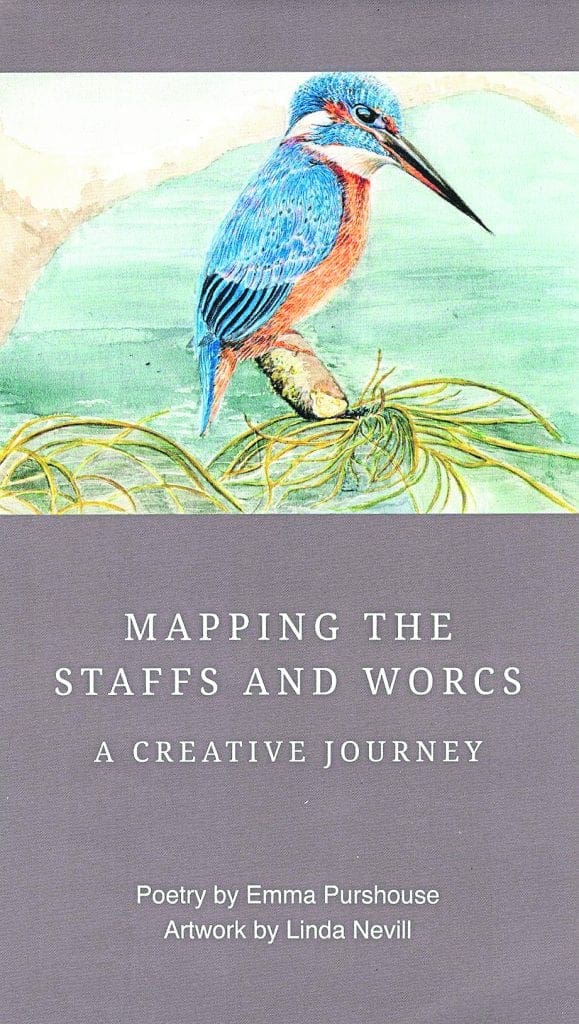 Reviewer: Neil Leadbeater
EMMA Purshouse is a freelance writer and performance poet. She was born in Wolverhampton but now lives on a narrowboat and enjoys travelling the inland waterways. The Staffordshire and Worcestershire is one of her favourite canals and, as one who has lived on it and travelled on it, she is well qualified to write about it.
Linda Nevill is a visual artist who enjoys walking and sketching. She paints in watercolour and oils and also produces original prints such as etchings and woodcuts. In Mapping the Staffs and Worcs they have created in words and pictures a fascinating account of the sights and sounds of a life lived on one of the best-loved waterways in the Midlands.
A lot of thought has clearly gone into the format which takes the form of a fold-out map. In addition to the poems and the artwork, the map shows the whole course of the canal from Great Hayward Junction at Shugborough to Stourport-on-Severn complete with mile-markers and the individual names and locations of all the 43 locks along its length.
The 38 poems in this collection are all written in the shortest among the traditionally accepted forms of Japanese haiku. They consist of 17 syllables divided into three sections of 5-7-5 and offer a pleasing mix of geography, topology and natural history.
Almost all are titled according to the place in which they are located. Beyond the immediacy of the canal, they reach out in subject matter to name iconic features such as the Red House Cone near Brierley Hill or an ancient church at Gailey. Local attractions also get a mention such as the steam trains at Bewdley. These serve as useful markers to those who are familiar with the area being covered.
The haiku are peopled with anglers, lock keepers, boat owners, towpath walkers and Sunday cyclists. There is plenty of humour here too – the grebes who are 'dancing beak to beak', the Rock Houses at Kinver where 'troglodytes are welcome' and 'the posher postcode' at Wightwick where 'Pre-Raphaelites rub shoulders with the arts and crafts of Morris and Co'.
Being so close to nature, Purshouse is a good observer of the natural life of the waterbank. Mention is made of trees carved with hearts and initials, kingfishers, swans and herons. The naming of animals does not stop there either but continues into the fields.
The experience of living on a boat is also finely drawn: practical matters such as negotiating low bridges, plant sales and the need to tend to rooftop gardens all get a mention. Domestic issues such as the need to go to the launderette are not forgotten and the annoyance of kitchen drawers shooting out of their containers when a fierce storm brings a heavy swell in its wake will bring back memories for many who have taken a holiday in rough weather on the canals.
The range of subject matter in Linda Nevill's artwork complements the poems. There are illustrations of local attractions, towpath views, plants, animals, tunnels and narrowboats. Some of these are in black and white and others in colour. A kingfisher deservedly takes centre stage by being placed on the front cover.
Copies of Mapping the Staffs and Worcs, A Creative Journey may be obtained free of charge from Emma Purshouse direct. To request a copy, email Emma on emmaasif@hotmail.com. Linda Neville's artwork may be viewed on her website at www.facebook.com/LindaNevill.FineArtPrintmaker.
Comments
comments