PS Maid of The Loch has steamed right into the heart of Loch Lomond Shores retail outlet, but without leaving her berth at nearby Balloch pier.
For the 1952-built, paddle steamer, arrived in the shopping mall in model form, thanks to Lachie Stewart, Commonwealth Games gold medallist, turned model maker, who recently unveiled the highly-detailed, 1.35 scale model of the ship in her heyday .
Now the model, plus an information display on the full-scale Maid, is attracting the attention of shoppers and encouraging them to donate to the cause of having the paddler sailing once again.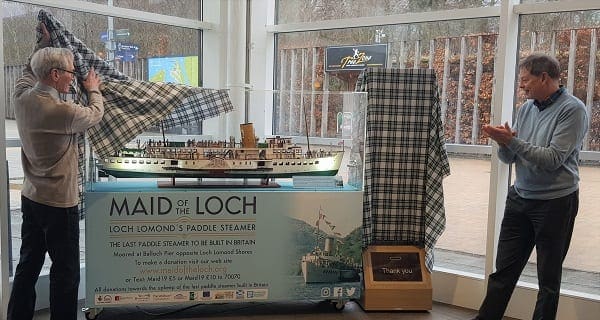 Lachie Stewart said: "The size of the model will attract people to look at it and it gives them a very good idea of what the ship will be like when she sails again as well as, hopefully, encouraging them to make a donation."

Loch Lomond Steamship Company chairman, John Beveridge, who was at the unveiling, said: "This generous gift, kindly donated by Lachie, is attracting the attention of young and old thanks to its incredible details and large scale size. We hope that it will encourage shoppers to come on board with us, visit the Maid as she now is, and support our drive to return her to service on Loch Lomond."
Comments
comments