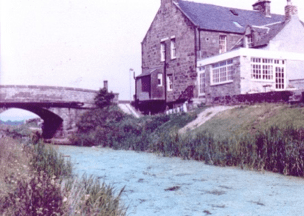 KEEP Canals Alive!, a group of 11 voluntary organisations, has sent an open letter to the chief executives and council leaders of the local authorities through which the Lowland canals run, asking for their support in persuading the Board of Scottish Canals to meet its statutory obligations.
The group is asking that Scottish Canals realign its priorities to ensure that the canals do not return to the dreadful state that they were in before the Millennium. Pictures of Ratho and Glasgow taken less than 10 years after the Forth & Clyde was originally closed in the 1960s, vividly illustrate how canals can deteriorate once large boats stop moving along them
The seven local authorities played a pivotal part in the work to re-open the canals after years of dereliction. Of the £79 million raised on the initial Millennium Link project, £7.2 million was contributed directly from council funds. Each council has seen the benefit from the canal restoration, both social and economic. The councils will be the first to feel the effects of degeneration but without the ability to do anything directly to stop the decline.
The Millennium Link was a successful co-operation between Central and Local Government, aided significantly by the voluntary sector whose contribution was valued at £2.4 million. Much of that was through the provision of large passenger boats, mainly operated by charities, which take almost 30,000 people on day trips each year. Private companies have produced a fleet of 19 hire boats that enabled 494 family holidays to be taken cruising through central Scotland last year, with an estimated spend of £250,000 by holidaymakers.
Many of the organisations involved with Keep Canals Alive! came into being before the Lowland canals were reopened, taking part in early canal clean-ups, and vigorous campaigning for the complete restoration of the canals.
Ronnie Rusack , well-known canal enthusiast and campaigner and chairman of the Lowland Canal Voluntary Group, says: "After 47 years of campaigning for the Lowland canals I'm not prepared to allow them to deteriorate any further and slip back to becoming remainder waterways.
"The Scottish Lowland Canals are not only part of our heritage but play a vital role in tourism, health and the well-being of the Scottish people and have something for everyone as proved by their usage. I am delighted to have received expressions of support from councillors of all shades of opinion in three areas already."
The local authorities are: East Dunbartonshire Council, Edinburgh City Council, Falkirk Council, Glasgow City Council, North Lanarkshire Council, West Dunbartonshire Council, and West Lothian Council.
Keep Canals Alive!  comprises of eleven voluntary organisations who have joined forces to campaign against and prevent the dereliction of the Lowland canals. These include Bridge 19–40 Canal Society; Capercaille Cruisers; Edinburgh Canal Society; Forth & Clyde Canal Society; Forth Yacht Clubs Association; Linlithgow Union Canal Society; Lowland Canals Association; Lowland Canals Volunteer Group; Re-Union Canal Boats; RYA Scotland and Seagull Trust Cruises.
Comments
comments