GET involved in discovering Lancaster Canal's hidden gems – this is the call from a new project officer who has been appointed to promote the waterway's rich heritage and leisure opportunities in South Cumbria.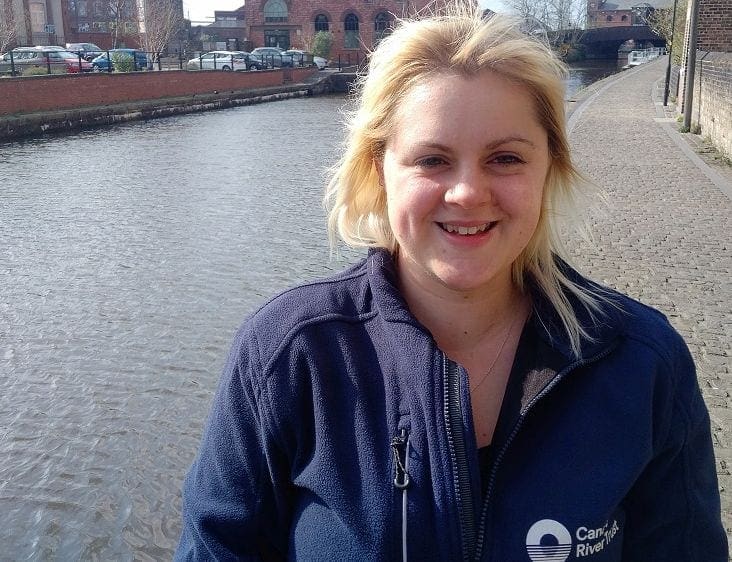 Carrie House has joined the Canal & River Trust charity and Lancaster Canal Regeneration Partnership (LCRP) on a two year community engagement project, funded as part of a Heritage Lottery Fund (HLF) grant of £1.3million which is helping finance vital repairs to Grade II-listed Stainton Aqueduct, near Sedgwick.
Organising nature and wellbeing walks, history, heritage and wildlife events; improving the Lancaster Canal Towpath Trail and recruiting volunteers to learn new skills in dry stone walling and oral history recording are just a few of the exciting activities Carrie will be promoting.
As the Lancaster Canal celebrates its bicentenary this year, Carrie will provide a focal point for visitors and residents alike, as she shines a light on cultural and leisure opportunities offered by the canal's fascinating historic structures and beautiful natural environment.
Under a wider £2.2 million project, Stainton Aqueduct, Sedgewick Aqueduct and Hincaster Tunnel will all benefit from improved access and have new interpretation to guide visitors in the exploration of the area.
Carrie said: "I would love to hear from people who would like to volunteer and get involved in discovering and preserving this incredibly important waterway. The canal is a fantastic place to enjoy the big outdoors.
"Some stretches are in water, some aren't, but this intriguing combination provides for a diverse towpath walking trail along the old historic canal route, peppered with stunning structures like Hincaster Tunnel and Stainton Aqueduct."
Carrie's new role is part of the wider project to repair Stainton Aqueduct, which was badly damaged during storms Desmond and Eva in December 2015. The Canal & River Trust is currently hard at work restoring this vital water feed to the Lancaster Canal, which is likely to take until the summer to complete.
Daniel Greenhalgh, Canal & River Trust North West regional director, said: "Restoring canal structures, like Stainton Aqueduct, is incredibly important, but it is also equally important to encourage people to engage with their local waterways and take advantage of the amazing leisure and heritage opportunities they provide.
"Research proves people are happier and healthier by water. As the Lancaster Canal celebrates its bicentenary, this new community engagement project is the perfect way to focus attention on how residents can enjoy this historic waterway gem on their doorsteps."
Audrey Smith OBE, Lancaster Canal Regeneration Partnership chair, added: "The canal has great untapped potential as a regional visitor and tourism destination. We look forward to continuing to work with the Canal & River Trust as we breathe new life into the waterway through the Lancaster Canal Towpath Trail project."
The £2.2 million restoration, interpretation and community project is made possible thanks to National Lottery players and the HLF £1.3 million grant, and funding from the Rural Payments Agency Countryside Access Fund (£500,000), Canal & River Trust and Cumbria County Council.
A grant of £140,000 from South Lakeland District Council and smaller grants from Cumbria County Council, Kendal Town Council, the Lancaster Canal Trust and the Inland Waterways Association will support work on the Towpath Trail project in the Kendal to Natland area.
The Grade ll-listed Stainton Aqueduct was built in 1819 and carries the Lancaster Canal, cared for by the Canal & River Trust, over Stainton Beck. Prior to the damage caused during extreme rainfall in the December 2015 storms, the aqueduct was in good condition. Emergency stabilisation works costing £250,000 were completed onsite by the Canal & River Trust in early 2016 and once this final major construction phase is finished, the public right of way through the aqueduct tunnel and navigation over the aqueduct (principally used by a trip boat operated by the Lancaster Canal Trust) will be reinstated.
To find out more about volunteering with the Canal & River Trust, please visit https://canalrivertrust.org.uk/volunteer. For more information on the Lancaster Canal and bicentenary celebrations, check out https://canalrivertrust.org.uk/enjoy-the-waterways/canal-and-river-network/lancaster-canal or the Lancaster Canal Regeneration Partnership, www.lancastercanalregenerationpartnership.wordpress.com.
Comments
comments