The waterways season is really under way now and, after all the traumas of the Beast from the East and what seemed like a never-ending winter, we are now heading into the full glare of the summer sun.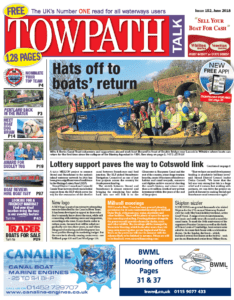 The June issue of Towpath Talk is once again a busy one, packed with news, views, book reviews, ideas for days out, technical knowhow and, of course, many delightful boats for sale!
Our new Pets on the Cut feature continues with another canine companion on the waterways – this time a golden retriever called Brian, who laps up all the attention he gets in his very fetching lifejacket.
Our roving reporters have been out and about to bring you some of the best events of the year so far, including the 41st Easter Boat Gathering at the National Waterways Museum and the annual gathering of tug boats at the Black Country Living Museum. Editor Janet Richardson reports on her visit to South Wales for a morning at the peaceful and scenic Mon & Brec Canal while our regular towpath talker (of the equine variety), Cracker the boat horse, gives his news updates – straight from the horse's mouth, of course!
Mark Tizard, co vice-chairman of the National Association of Boat Owners, brings news of the Canal & River Trust's new logo, which has caused some controversy – see both the new logo, and the existing one that most people will recognise of the swan and bridge, in the June issue.
So whether you're already enjoying life on the water, thinking of buying a boat, booking a waterways holiday or simply planning to potter along the towpath in the sun and enjoy the serenity of Britain's waterways, this is the publication for you.
Don't forget you can keep up to date with the latest news from your favourite waterways publication on smartphone and tablet as the latest issue is available via a FREE app now! The links for each mobile device are as follows:
Apple: http://mrtns.uk/towpathapple
Android: http://mrtns.uk/towpathandroid
Kindle: http://mrtns.uk/towpathkindle
Comments
comments