We've had snowy scenes, with waterways images beautiful enough to grace the front of any greetings card… and now it seems as if the festive season is going to be warmer than those mellow days in the Med!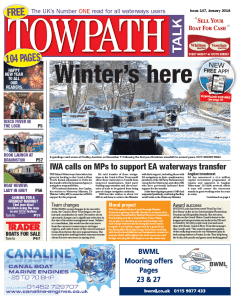 So even though, as the cover of the January issue says, winter is here, we're not necessarily going to have to think about pulling on our winter woollies for a while. However, when it comes to taking care of your boat, it's always advisable to err on the side of caution, as marine industry expert Ben Sutcliffe-Davies explains in his latest article.
Despite the fact that many boaters have now moored up for a couple of months while the worst of the season passes, there are still many things that waterways enthusiasts can enjoy at this time of year. If you'd like to burn off a few calories after consuming all those festive treats, you'll find a list of work party events taking place in January where you can volunteer to help with important jobs on the canal network.
There's also a preview of the London Boat Show, news of art exhibitions and other forthcoming events, as well as all your usual favourites – including Cracker the boat horse, who explains in 'hay-larious' fashion how his trip in search for food led him to cause his human handlers quite a bit of pre-Christmas bother!
Harry Arnold also raises a titter with his reminiscences, while Alison Alderton harks back to more summery days with a trip on the Shannon, the longest river in the British Isles. In addition to all the latest news and views, there are pages and pages of boats for sale… ideal for dreaming about those long, sunny, glorious days to come!
So if all this has whetted your appetite for the summer cruising season ahead, pick up your copy of Towpath Talk from stockists, including chandleries along the network. Or you can view the latest edition online:
https://www.towpathtalk.co.uk/read-online/
Don't forget you can also keep up to date with the latest news from your favourite waterways publication on smartphone and tablet as the latest issue is available via a FREE app now! The links for each mobile device are as follows:
Apple: http://mrtns.uk/towpathapple
Android: http://mrtns.uk/towpathandroid
Kindle: http://mrtns.uk/towpathkindle
Comments
comments