We've now passed the shortest day of the year, but with Towpath Talk you can enjoy the darkness that winter nights bring thanks to a new feature about astronomy.
Towpath Astronomer unveils a few secrets of the universe with a fascinating introduction to stargazing in the January 2017 issue.
With light pollution affecting town and city dwellers, the towpath and canal user can enjoy a sparkling celestial show as darkened, rural waterways offer a much better view of the heavens. Find out more in the newspaper!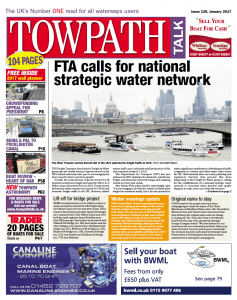 Although we're now in the Christmas and new year lull, with few people taking to their craft for the festive season, there's still plenty of news to engage and entertain anyone interesting in boating, angling and sight-seeing.
There are warnings to be heeded – about the dangers of buying too-cheap boats on internet sites and paying deposits up front; and how to make sure your multi-fuel stove is safe and well maintained over winter.
A year ago, communities in West Yorkshire were devastated by storms that caused widespread flooding and damage. Towpath Talk reports on the progress of work at Elland Bridge, near Halifax, which was damaged beyond repair during the Boxing Day floods. A new bridge is now taking shape, and you can read about the work that's been taking place over the year.
There's a plea for volunteers to help restore Lock 15 of the Grantham Canal; news of restoration work on the Kennet & Avon Canal; and a report on initiatives to make a difference to the Pocklington Canal in time for its bicentenary in 2018.
As usual there is plenty of news from Irish and Scottish waters, another delightful feature from the pen of Phillippa Greenwood, with stunning images provided by Martine O'Callaghan – this month featuring the graceful mute swan.
Anna Pettigrew provides another delicious seasonal recipe; there's plenty of chat from readers on all manner of boating topics and even some poignant historical facts from Cracker the boat horse.
The Royal Yachting Association, in addition to its fascinating jargon buster feature, is offering all its members a free ticket to the London Boat Show at London's ExCeL from January 6-15.
Plentiful snippets of news are dotted around the 104-page publication – and don't forget, of course, there are boats galore for sale! So if your new year resolution is to take to the water, either as a liveaboard lifestyle or purely for holiday enjoyment, make sure you pick up your copy… or you can read it online now. Happy new year!
Comments
comments