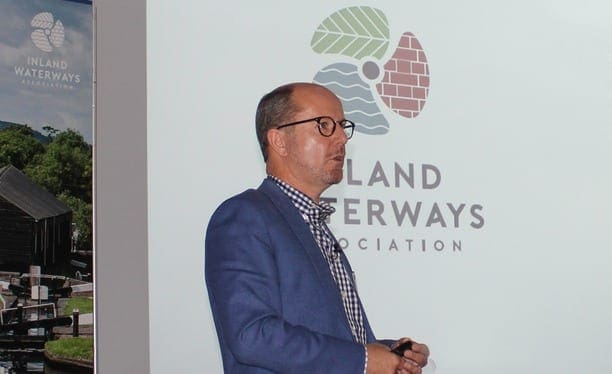 Following a Trustee meeting on Saturday November 16, Paul Rodgers has been elected as the Association's new National Chairman with immediate effect.

Paul succeeds outgoing National Chairman, Ivor Caplan who, after two years at the helm, has decided to focus on areas of particular interest including heritage, navigation and planning.

Paul brings a wealth of business and volunteering expertise to the role. He is
Chairman and Founder of European payments community, Vendorcom and has a background in marketing, strategy development and community building.  He first volunteered for IWA in 2014, when his wife persuaded him to go on week long Canal Camp with her and since then his involvement has grown.
Commenting on Paul's appointment, Neil Edwards, IWA's Chief Executive says, "Paul brings a new perspective, having been a volunteer working across our Waterway Recovery Group sites, such as the Cotswold Canals, as well as a member of our Marketing Committee.  He is an entrepreneur with a flair for getting straight to the heart of what matters.  His business and leadership experience will take IWA forward to the delivery of our strategic objectives, starting with the plans for our 75th anniversary year.
I would also like to take this opportunity to thank Ivor Caplan for his service as National Chairman and for the commitment and energy he has brought to the Association during his time in the role, and will continue to bring to IWA in many other roles."
Paul has big plans for IWA and is looking to capitalise on IWA's unique position in terms of its independence, heritage, perspective and diversity of interests as a way to shape and facilitate the future regeneration of the waterways.
Paul says:
"I
am honoured to have been elected by my fellow trustees to help lead the next stage in the development of our Association with the support of our staff team, volunteers and members.
"IWA has a proven track record of delivering for the waterways and has the depth of experience needed to build on the past to ensure the correct route is taken for the future. As an independent organisation, it is able to be objective and take a flexible approach in tackling a wide range of competing demands across waterways interests. IWA is able to speak authoritatively on all interests and deliver effectively when action is needed.
"My aim as National Chairman is to continue to build on IWA's reputation, developing well-thought-out, strategic and active campaigns which will result in the regeneration of the waterways to benefit all users, influencers and stakeholders for the remainder of the 21st century – and beyond."
Enjoy more Towpath Talk reading in the monthly paper.
Click here
to subscribe.
Comments
comments