THE winner of National Historic Ships UK's 2017 photography competition was revealed at a prestigious awards ceremony  at the Corporation of Trinity House, London, in the presence of HRH The Princess Royal.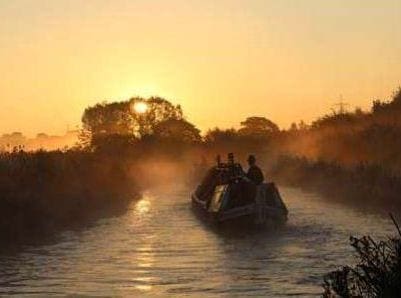 The accolade was awarded to Teresa Fuller after her
image, 'Butty boat Ilford breaks the September Dawn', was chosen from hundreds of entries to scoop the £1000
prize awarded by National Historic Ships UK.
The prize will go to a vessel of Teresa's choice on the National
Register of Historic Vessels.
The competition was strong this year with outstanding entries from a wide range of entrants. The judging panel were delighted to see both professional and amateur photographers represented, although to ensure fairness these details are not disclosed when selecting the best photographs.
Commenting on Teresa's winning image, judge Paul Atterbury said: "Having had a long-term attachment to Britain's inland waterway network, I am delighted to see a canal boat as the Overall Winner. National Historic Ships UK seems to conjure up sea-going
and coastal vessels, so it is good to remember that canal craft are also part of our great boating story.
"As someone long familiar with canals and canal boating, I can say with authority that this photograph really does it – glorious light and landscape, early morning autumn mist and a great sense of adventure, while at the same time reminding us of a vital but often overlooked part of our boating history.
"For decades, so much of our ordinary trading life depended upon pairs of narrowboats making their way slowly through the landscape. This scene, exceptional and romantic today, would have been commonplace eighty years ago."
The competition has been supported this year by Classic Boat, Adlard Coles Nautical, Fat Beehive Ltd and Waverley Excursions Ltd.
Comments
comments