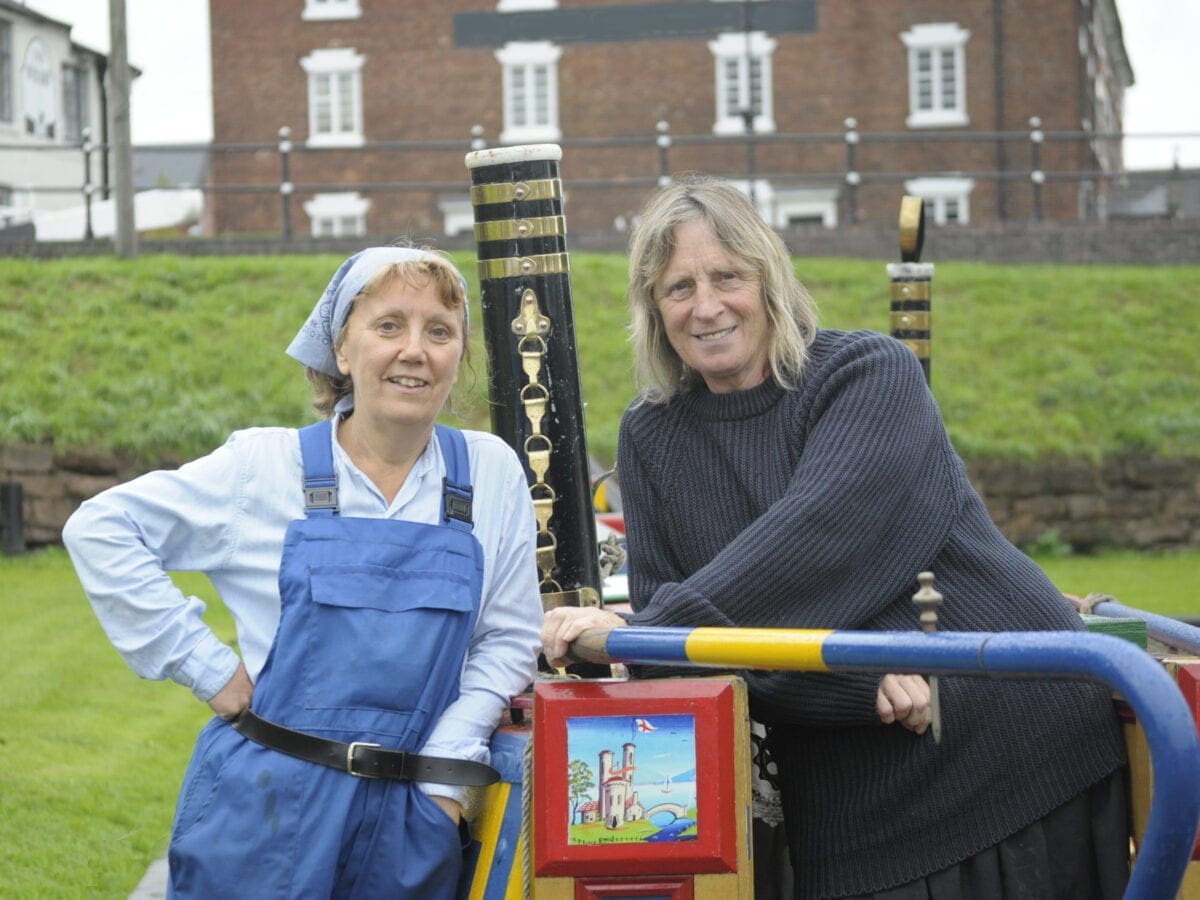 SPRING 2018 sees Alarum's acclaimed retelling of the stories of the Women's Training Scheme – women at work on the wartime waterways – arrive on the canals of Worcestershire, Staffordshire and the Black Country.
Idle Women of the Wartime Waterways tells the stories of women who took on the challenging job of operating pairs of canal boats during WWII when there was a shortage of crews.
The show is a double bill, featuring poems and songs by former Worcestershire Poet Laureate, Heather Wastie, and a solo play by Kate Saffin, and has been created using first hand accounts, diaries, archive material and audio interviews.
During April and May they will be following, by boat, the route worked by a Worcestershire woman, Daphne March. Daphne carried flour on her family-owned boat Heather Bell from Worcester to Tipton, and coal from Cannock to Worcester, throughout the war. Without her, the Women's Training Scheme would probably never have started.
Former Worcestershire Poet Laureate, Heather has been touring her own poetry and songs with Alarum Theatre since April 2016. She is delighted to be bringing the show to
Worcestershire where she now lives and the Black Country where she was born and spent much of her life.
"The women whose stories we tell don't get the recognition they deserve," says Heather. "Most people have never heard of them. They didn't have a proper name; they were just
called 'trainees', even after they'd passed their training. The nickname 'Idle Women' came after the war, and my half of the show explains where that came from.
"By quoting from first-hand accounts of the trainees themselves, we bring to life what the women went through
when they left behind their ordinary middle class lives in favour of long hours, hard labour and having to spend a lot of time in close proximity to other women in very cramped and challenging conditions.
"Kate and I met by chance on Twitter. Kate lives on a narrowboat and I live in a house very close to the Staffs & Worcs Canal. My family had a boat from when I was very young, so you could say that canals are in my DNA."
"Most of the trainees worked on the Grand Union" says Kate "but without Daphne there might have been no formal training scheme. She proved that women could handle a working boat. She also holds the record for length of service – she worked the Heather Bell  throughout the war, and it wasn't all easy going by any means.
"On one occasion the Heather Bell was hit by a bigger commercial boat and sank – but Daphne got her raised and repaired and carried on.
"There's lots of humour as well as historical accuracy in the show, and we finish with some gentle audience participation. Where possible, we tour by boat. After putting on over 60
shows in 2017, this year we are pleased to be joining The Ring celebrations, which include the publication of Heather's book of poems about the restoration of the Droitwich Canals."
Tour dates
April 17, 7.30pm:  Alcester Town Hall, Henley St, Alcester B49 5QX
April 20, 7.30pm: Saint Nicolas Place B38 8RU, 0121 458 1223
April 22, 3pm:  Stirchley Baths, Bournville Lane, Birmingham B30 2JT
April 25, 7.30pm: Two Towers Brewery, 29 Shadwell Street, Birmingham B4 6HB
April 27, 7pm: Tipton Community Hub, 1 Brook St DY4 9DD
April 28, 7.30pm Titford Pumphouse, Engine St, Oldbury B69 4NL
May 1, 2pm: Wood Lane Community Centre, 157 Wood Ln, West Bromwich B70 9PT
May 2, 7pm: The Boathouse, Park Rd, Rushall, Walsall WS4 1LG
May 4, 7.30pm:  Longwood Boat Club, Aldridge Road, Walsall WS4 2JS
May 8, 1-2pm: Stan Ball Centre, Abbotts St, Walsall WS3 3AZ
May 8, 7.30 The Fingerpost, Norton Rd, Pelsall, Walsall WS3 5AU
May 9, 7.30pm: Yates Sport & Social Club, Lime Lane, Pelsall, Walsall WS3 5AS
May 12, 7.30pm:  Calf Heath Marina, Kings Rd, Calf Heath, Wolverhampton WV10 7DU
For further tour dates and full details see www.alarumtheatre.co.uk
Additional events:
Wednesday April 4:  THE MUCK & SHOVEL BRIGADE – The Railway Inn WR9 9AY
Saturday April 7: Talk by Droitwich Waterways Trust: The Restoration of the Droitwich Canals –
Boat and Railway, Shaw Lane, Stoke Prior B60 4EQ
Saturday April 21: Talk by Mike Constable – Canal Boatwomen Trainees were NOT 'Idle
Women' – Selly Manor Museum B30 2AE
Saturday April 28t: Venice of the Black Country: Exploring the Canals of Tipton – Walking talk by
Keith Hodgkins
Comments
comments