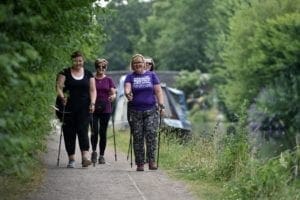 A NORDIC walking group is using the canal towpath in Hemel Hempstead as a way to keep fit and help local people walk themselves back to health.
The weekly sessions, which are run by occupational therapist and Nordic walking leader Jacqueline Smith, are supported by Canal & River Trust and involve walking up to six miles along the towpath.
The Wellbeing Walk is designed to improve the health and wellbeing of local people by getting them active and spending some time outdoors.
Nordic walking was designed to get the whole body moving.  Using poles similar to ski poles, walkers propel themselves forward working harder than they normally would.  This style of walking is easy on the joints, suitable for all fitness levels and turns a walk into a whole body work out.
The group meets three times a week and is open to anyone who wants to give it a try. Recent research by CRT shows that being outside next to water is good for you, so this activity is perfect for anyone who wants to improve their physical health or mental wellbeing.
Tav Kazmi, deputy regional director at CRT, said: "The Nordic walking group is an ideal activity to try if you're looking for something to get you away from the computer screens and outside enjoying some fresh air. As our canals are generally flat they are perfect for beginners or those who just want a gentler approach to exercise – and with 2,000 miles to discover you can pretty much go anywhere in the country."
Jacqueline said: "Anyone is welcome to come and join us for our walks – they are energetic, great fun and you get to make lots of new friends."
To join Jacqueline's Nordic walking group visit http://hemelnordicwalking.co.uk/ Each walk costs between £5 and £8 per person.
Comments
comments