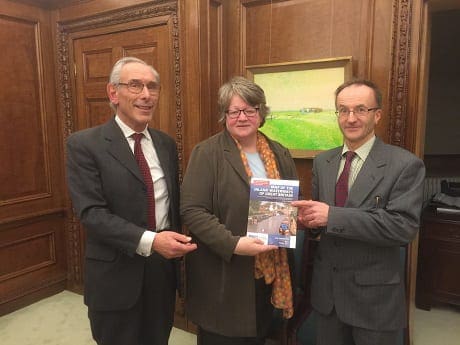 DISAPPOINTMENT over the announcement that Defra has been unable to agree Canal & River Trust's recent proposal for taking over the navigations run by the Environment Agency has been tempered following a meeting with Waterways Minister Dr Thérèse Coffey.
She informed IWA representatives that the transfer was still being considered subject to further talks to refine CRT's proposals.  IWA has since received confirmation from Defra that Government remains receptive to a revised proposal from CRT and understands that the Minister has offered a further meeting with CRT.
IWA recognises the efforts of the Environment Agency to maintain its navigations within the limited government grant available and the lack of opportunity to attract the further funding that CRT can. It  is particularly concerned that during this entire debate there has been no indication from government as to how sufficient and sustainable levels of funding will be provided for EA navigations if the transfer does not progress.
With increased pressure on general EA budgets through Defra and the need to prioritise other services such as flood control, the funding for navigation seems likely to decrease and navigation assets deteriorate further.
There is evidence that if navigation structures such as locks, bridges and embankments are not maintained to a proper standard this could result in a major failure leading to lengthy closures of the navigation, damage to local economies, increased local flood risk and the need to expend large sums on remedial work.
Urging Defra and CRT to continue negotiations, IWA believes that these matters should be capable of resolution and that a transfer of EA navigations remains the best way to ensure the future of these waterways with the minimum impact on the public purse.
In the meantime IWA will focus on the matter which has always been its primary concern – that EA's navigations have sufficient funding to ensure their proper maintenance, and re-opening of those sections of navigation that have been closed until further notice.
Comments
comments