Book Review by Robert Davies
A guide to the Four Counties Ring and Caldon Canal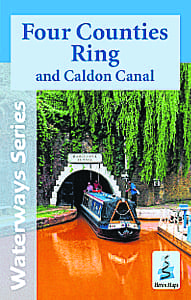 HERON MAPS was established in 2010 and since then has produced 12 maps in its Waterway Series. Its latest offering – number 13 – covers the Four Counties Ring and includes the Caldon Canal.
The maps are produced at 1:50000 in folding OS-type format so they are not quite as versatile, during cruising, as the book maps from other sources.
Nevertheless the information provided is very comprehensive and suitable for waterway and leisure users.
This map gives detailed coverage of the Four Counties Ring and Caldon Canal including the Shropshire Union Canal from Beeston to Autherley Junction, parts of the Staffordshire and Worcestershire Canal, Trent & Mersey Canal and the Middlewich Branch.
The considerable detail includes navigational and historical information, town plans, visitor moorings, marinas and boatyards etc.
This detail is complemented by information panels and photographs. Also included is 'tourist' information – such as places of interest, nature reserves, pubs and footpaths – but still relevant
to boaters.
The Four Counties Ring is 110 miles long so it is doable in a week but to take advantage of the information that the map provides up to two weeks makes more sense. Canals are not for rushing on!
Four Counties Ring and Caldon Canal is published by Heron Maps of Reading.
ISBN 978-1908851154
Priced at £6.50 and obtainable online from: http://www.guidepost.uk.com/shop/acatalog/HERON_WATERWAY_MAPS.html in addition to the usualwaterway outlets
Comments
comments