BUDDING bird watchers are being encouraged to take some time getting to know their local wildlife by taking part in one of the free 'Birding for Beginners' courses at Fradley Junction.
Those taking part will learn how to identify different species of bird as well as the things to look out for through the changing seasons.
Sessions take place once a month to accommodate new members and to enable people to log the differences in the various species through spring, summer, autumn and winter. The first event of this year will be on Saturday, February 10.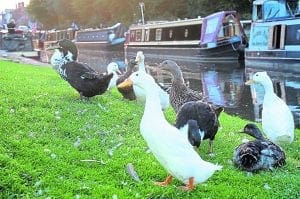 Fradley Junction, which marks the junction of the Trent & Mersey and Coventry Canals, has supported a hive of activity on the canal over the past two centuries and nowadays, with Fradley Pool, has become a special haven for wildlife and a popular visitor destination.
The pool even has its own bird hide where bird watchers can watch discreetly as kingfishers, great spotted woodpecker, grey wagtails, tufted duck, mallard, moorhen and nuthatch visit to feed 
or nest.
Each session is free and will begin at 9am and last up to three hours depending on weather conditions and bird activity.
Samantha Bucknall, ecologist for the Canal & River Trust, said: "Fradley Junction is bursting with wildlife and in recent years volunteers have supported our work to improve habitats there even further – so it's a great place to spot a variety 
of birds.
"The Birding for Beginners course is a great way to unwind and learn about some of the fantastic species of bird that can be found on our doorsteps. The beauty of this course is that it's a monthly event so people will really be able to see how the various species, as well as all the other wildlife and greenery at Fradley Pool, adapt to the 
changing seasons."
The sessions start from the historic canal workshops at Fradley Junction, Fradley, Staffordshire, DE13 7DN. Each is free of charge but there is a small fee for car parking and drinks and food can be bought at the nearby cafe or pub. Those wanting to take part are encouraged to wear sturdy shoes and bring binoculars if they have them.
Birding for Beginners events take place on: February 10, March 10, April 14, May 12, June 9 and July 14.
Comments
comments