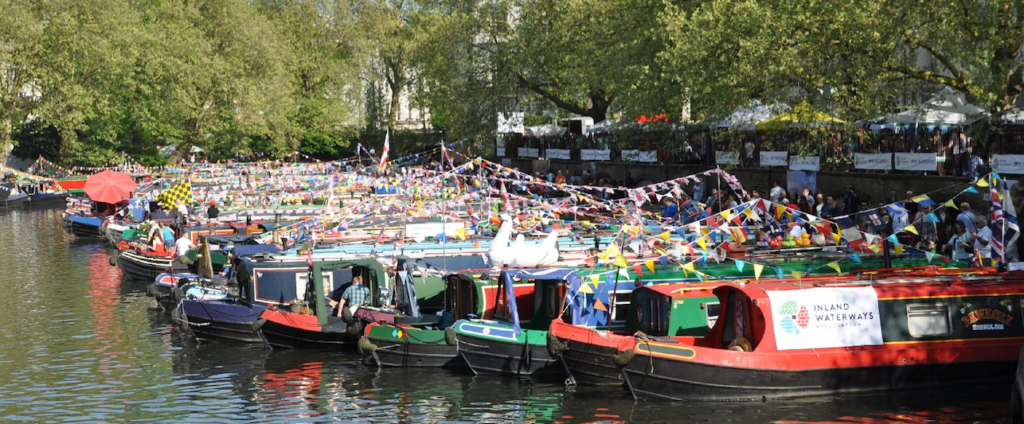 Volunteers are being sought ahead of one of the biggest events in the nation's waterways calendar.
Excitement is building before the IWA Canalway Cavalcade 2019, when London's Little Venice is transformed by more than 100 colourful boats, live music, refreshment stands, craft stalls and plenty of family fun
Cavalcade is organised by a core team of dedicated volunteers who meet every six to eight weeks in London to discuss progress and share ideas.
The increasing success of the event means they are looking for new, enthusiastic team members to join in the fun of running this colourful spectacle every year.
In particular, they are looking for an administration co-ordinator and also an assistant publicity and social media manager, but would also love to hear from anyone who would like to help out, and will never turn a willing volunteer away!
You don't need previous experience, you just need to give a few hours of your time every month and on the three event days.
This vibrant festival takes place over May Day Bank Holiday weekend – May 4 to 6 – at Little Venice in Paddington.
It's a chance to see Browning's Pool at its very best – full of boats with bunting flying and dressed to the 2019 theme of 'Celebrating Our Volunteers'.
This year, there is a wide diversity of boats already booked in for the event, including historic, residential and working narrowboats, cruisers and Dutch barges.
There is a packed programme of events both on and off the water, including a pageant of decorated boats on the Saturday; boat handling competitions and an evening procession of illuminated boats on the Sunday; and a parade of historic and working boats on Bank Holiday Monday.
Younger visitors can try their hand at kayaking, visit a Teddy bears'picnic, or watch a traditional Punch and Judy show in Rembrandt Gardens.
Opening Times are: Saturday, May 4, 10am – 6pm; Sunday, May 5, 10am – 6pm and 9pm – 10.30pm; Monday, May 6, 10am – 5pm.
For more details of what's on, timings, how to get there and a full listing of food and drink, craft and other stalls, visit the websitewww.waterways.org.uk/cavalcade
If you would like to join the team, or for more information, contact Mark Saxon, chairman, at mark.saxon@waterways.org.uk
If you can spare a few hours during the event go to the IWA website where the volunteer registration form can be downloaded or completed on-line:https://www.waterways.org.uk/events_festivals/canalway_cavalcade/volunteer
Comments
comments