HARDY Scottish boaters recently braved the winter weather to enjoy the inaugural Festival of Fire and Light on the Union Canal.
The event was the idea of Ronnie Rusack, chairman of the Lowland Canal Volunteer Group.
Some 38 years ago he was the first to run Santa Cruises on the Union Canal, having built a colourful grotto on an island in Wilkies Basin near Ratho.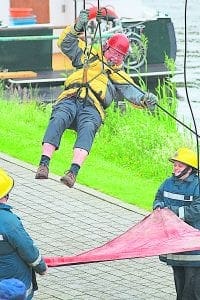 In those days, as landlord of the Bridge Inn at Ratho, Ronnie was also a leading campaigner behind restoring the link between the Union and Forth & Clyde Canals at Falkirk and, in 1999, was awarded the MBE for his service to canal restoration.
Today Ronnie (pictured left, photo by Jonathan Mosse) continues to run flotilla events on the Lowland Canals in order to draw attention to these waterways, interest the general public with on-the-water activity and colour, and encourage the boating community to get together and have fun on their boats.
The festival started with a warming bonfire and barbecue at the Almond Aqueduct on the Union Canal where 10 boats – and many more boaters and friends – had gathered.
Ronnie returned to his catering roots by serving in the region of 60 meals around a giant bonfire built by Carol Bell and the Lowland Canal 
Volunteer Group.
Local boater Pierre Potel, Scottish Canals' staff and volunteers had previously found and transported a vast amount of wood.
Everyone helped with the clear-up on Saturday morning, before 16 boats, all decorated with lights and some carrying musicians, congregated at Ratho before processing along the canal to 
Edinburgh Quay.
Moorers at Edinburgh also joined in with decorated boats, making the canal look very festive.
Ronnie said: "I was really pleased with the response to the Festival of Fire and Light, in spite of the fact that the Falkirk Wheel closure meant that many boaters from the Forth & Clyde were unable 
to attend.
"I reckon we could get 50 boats for next year's event when I'd like to contact householders along the route and encourage them to light up their houses and gardens – it could become a fun, annual event."
Comments
comments