There's a strong musical theme to the February issue of Towpath Talk – out now!
Sixties pop idol Dave Berry, best remembered for his classic hit The Crying Game, has been appointed Restoration Ambassador for the Chesterfield Canal Trust.
Boater Kevin Day has a passion for collecting canal songs; but not only does he track them down, he's also well known around the waterways system for singing a selection from the hundreds he already has in his collection.
And you can also meet the carpenters – not the musical pairing, of course, but a duo who've worked together for more than 30 years after joining the Environment Agency as apprentices in 1985.
This month's issue also contains a wealth of news stories, including proposals for a stoppage on the Leigh line of the Bridgewater Canal, which could put the springtime cruising plans of many boaters in jeopardy.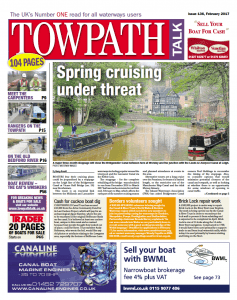 There are plenty of development plans and fundraising projects to find out about, too. Chesterfield Canal Trust has secured £10,000 from the Aviva Community Fund for an archaeological project to unearth a cuckoo boat thought to be in the Bellhouse Basin. The boats, unique to this canal, were so called because boat people thought they looked out of place.
Acton Swing Bridge, below Northwich on the River Weaver, is undergoing a £1.5 million repair and refurbishment programme, while a £500,000 project is under way to repair Brick Lock on the River Stort near Roydon. Engineers are repairing brickwork and sealing a leak as part of a £400,000 Tame Valley Canal project, due to be completed in March, while Whitchurch Canal Trust has been awarded more than £60,000 by the European Agricultural Fund for Rural Development for a project designed to boost canal-related tourism.
The winners of the Canal & River Trust's new photographic competition are revealed – and if you enjoy the foodie side of boating you can savour the Wilts & Berks Canal Trust's second annual Winter Ales, Cider and Sausage Festival and the cream tea celebrations of the Wey & Arun Canal. Check out the latest recipe from Anna Pettigrew and catch up with news from canalside pubs and restaurants.
Phillippa Greenwood's report on the Museum of London Docklands is accompanied by a series of stunning photographs from Martine O'Callaghan, while angler David Kent's monthly report includes dates and venues for Britain's biggest canal angling competition, the Canal Pairs Championship.
We've also got a series of letters, book reviews and Cracker the boat horse's latest chat as well as 20 pages of boats for sale. Whatever your waterway interests, we've got them covered – so make sure you pick up your copy of Towpath Talk today!
Comments
comments