ENGINEERS working for the Canal & River Trust are carrying out repairs seven days a week in order to reopen Lock 16 on the Kennet & Avon Canal in time for spring.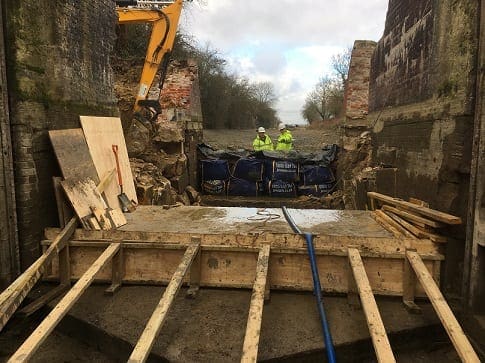 The project in Semington is being run by the Trust – the charity that cares for the 200-year old waterway – after an inspection over the festive period revealed significant damage to the wall of the canal, resulting in the lock being closed immediately for emergency works.
Neil Owen, Canal & River Trust engineer, said: "We'd planned to repair the lock walls in January, but once we'd drained the water from the canal it became clear that the job at hand was more significant than we first thought. Engineers are working non-stop to rebuild the wall of the canal and we're aiming to get it reopened by mid-March. The canal is incredibly durable, considering that it is two centuries old, but this is a good example of the type of work we have to do to ensure it remains it great condition.
"The Kennet & Avon Canal is arguably more popular than at any time in living memory. It's peoples' home, it supports businesses, and offers everyone a great space to relax and slow down. I'd definitely encourage people to pay it a visit."
For more information about the Canal & River Trust, including how you can volunteer or donate to the charity, visit canalrivertrust.org.uk
Comments
comments