Hugh Dougherty went along to Linlithgow on the Union Canal to see Scottish Canals' dredging team go into action with their new kit. Here's what he brought up from the canal depths!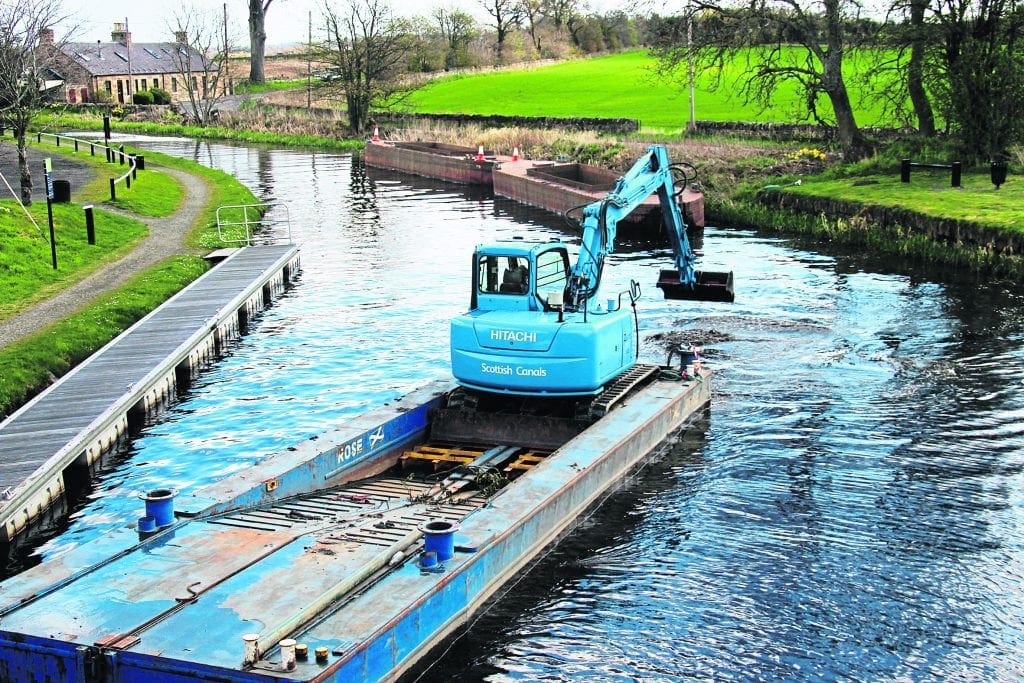 ALASDAIR Hamilton, Scottish Canals' special projects manager, is a happy man, for a £250,000 investment in the body's own dredging equipment and in staff training and development is making for better-dredged canals.
I met up with Alasdair, supervisor Tommy Thomson, and operative Davie Smith, the man at the sharp end of the machine that does the dredging, as they put the kit through its paces.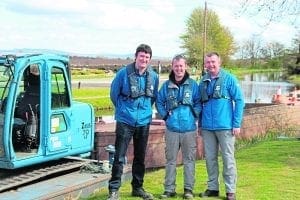 "We have a pontoon with the specially adapted digger on board and two hoppers, or as we call them 'pans', with a tug to take the full pans away," explained Alasdair. "The pontoon has legs that drop down on to the canal bottom to steady it and the dredging, which can include assorted debris, such as leaves, stones and even a Rolex watch and a bowling club trophy is tipped into the pans. They're taken by tug to an unloading point where the dredging is transferred to trucks. They take it away for conversion into soil.
"Nothing reaches landfill."
The new system replaces contractors and is the result of intensive equipment and safety training for the team. "We have a couple of people who came to us with digger competency certificates and we retrained them to work on water, which is a completely different skill from digging on a stable surface."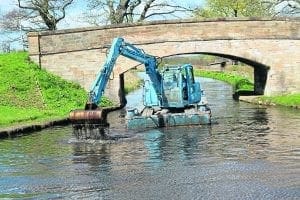 That was underlined by Davie who said: "The pontoon moves up and down and when you dig down, it moves against the push of the digger arm. You need real skill to do this and we also use the arm to manoeuvre the pontoon around to where we're dredging, and also to move out of the way of craft using the canal. That means plenty of up-and-down and two-and-fro motion. Some of the lads have actually felt sea sick on a canal! The other skill is not dredging too far down, in case you damage the clay bottom of the canal. We go down 1.2 metres on the Union and no further."
The digger, pontoon and pans have also worked on the Forth & Clyde and the Crinan Canal, being taken to Crinan on lorries, as the three craft are designed to come apart into two sections for 
road transport.
"The skill is being able to get them back together again!" smiled Tommy. "The pontoon has fishplates that you have to align exactly, but we've managed to do that."
All involved agree that the new system is a great boon to everyone sailing on the canals as the team can get to where they need to go faster than when contractors were involved.
"It's all about providing a better service for our customers," said Alasdair. "We all enjoy using the new kit. Who knows what we might dredge up!"
Comments
comments