There's a festive look to the December issue of Towpath Talk, as you'd expect, so look out for great gift ideas for family and friends in our special Christmas Gift Guide, while River Canal Rescue helps out with practical present suggestions for the Twelve Days of Christmas.
But don't worry if you are a lastminute.com buyer – as there's lots more to read in the December issue without having to feel too festive just yet!
There's certainly plenty of good cheer, with positive news stories of investment within the waterways network and loads of smiling faces in our 104-page publication.
And there are some heart-warming tales about boats that are being safeguarded for the future. Harry Arnold tells the story of Bellatrix, a boat that he has known since the 1960s, which has gone to a new home.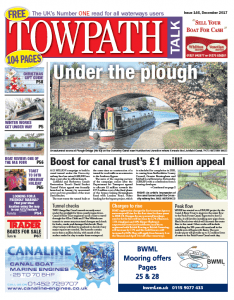 Regular Towpath Talk contributor Phillippa Greenwood, in the latest adaptation from her book Britain's Canals, A National Treasure in 100 Must-See Objects, shares the story of a lasting Friendship – a boat of that name which is on display in the National Waterways Museum in Ellesmere Port. Martine O'Callaghan's excellent images complete this picture of contentment.
Stargazers will enjoy astronomer Brian Jones's choice of constellation, one that is so visible in the sky at this time of year – the mighty Orion. If studying the universe has left you feeling a tad hungry, then Anna Pettigrew's seasonal recipe of onion and garlic coup will soon warm you up!
We've also got one eye on the new year, as we highlight a selection of events taking place in 2018 and, of course, there are pages of boats for sale and friendly boat builders and marinas are advertising their services. So if it's long summer days that you're hankering for, pick up your copy of Towpath Talk to give yourself a taste of things to come, long after the mince pies, turkey and all the trimmings have been consumed!
You can keep up to date with all the latest news from your favourite waterways publication online at https://www.towpathtalk.co.uk/read-online/ and also via smartphone and tablet as the latest issue is available via a FREE app now! The links for each mobile device are as follows:
Apple: http://mrtns.uk/towpathapple
Android: http://mrtns.uk/towpathandroid
Kindle: http://mrtns.uk/towpathkindle
Comments
comments