THE iconic crane at Audlem on the Shropshire Union Canal has now been repaired and reinstalled alongside the wharf.
The crane was condemned by CRT in September 2018, as the two wooden parts, the upright and the jib, were found to have significant rot. The crane was immediately fenced off, then removed from site in January 2019. It was taken to CRT's Northwich yard, where CRT apprentices and other staff made two replacement wooden parts, and cleaned and repainted the iron parts.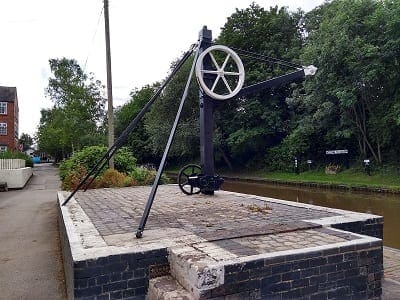 The crane was returned to site on 17 July, and lifted into place. Unfortunately, the installation was not completed that day, as two of the three new support legs were not the right length. They were corrected and brought back on 19 July, when the installation was completed.
Though the crane is by no means the original, nor even a canal crane, it has been at Audlem Wharf for just under 50 years. It is a London & North Western Railway crane from a goods shed, believed to be at one of the many railway/canal interchange basins in the west midlands. The original wharf crane was made of iron, and was sited a few metres north of this crane. The ground fixing bracket is still visible.
Comments
comments