Meashamware is just one of the lines collected by floating antique dealers Tim and Ali Smith. Julie Webb finds out more.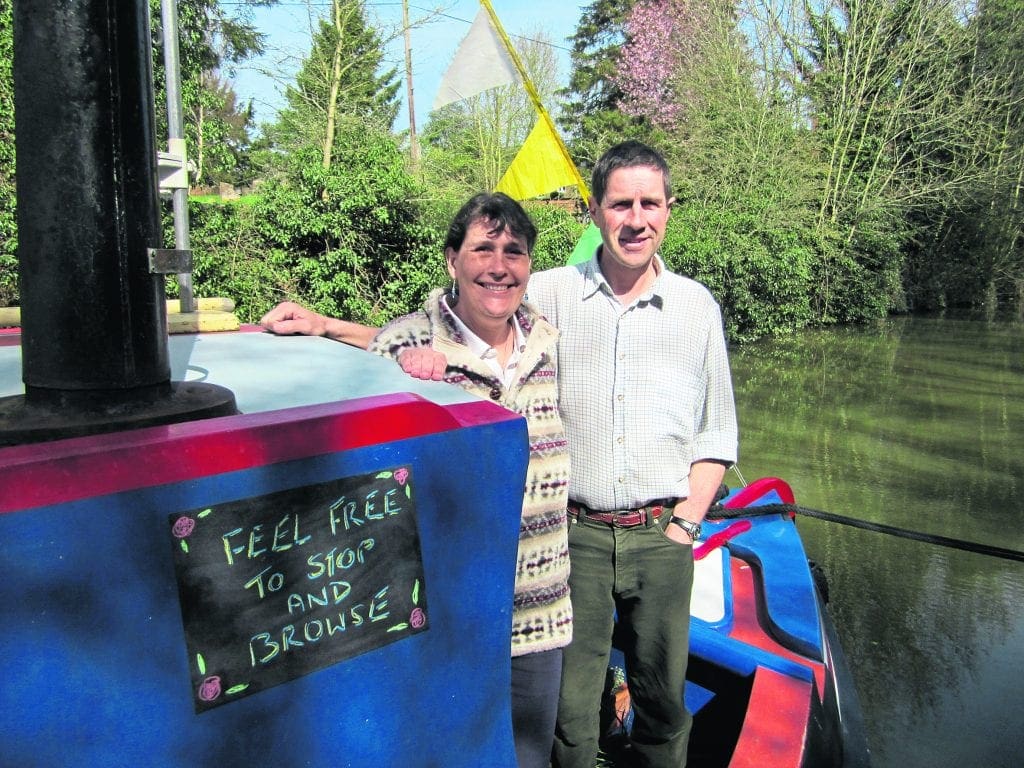 AS A by-product of some genealogical research I recently discovered a distant connection to a boatman's wife, Mary Tooley, described in the 1861 census as a 'dealer in earthenware', so I was very interested to hear from Antiques Afloat's Ali Smith – who with her husband Tim is a modern 'dealer in earthenware' and much else besides – about the history of the Measham pottery Mary would have sold.
"There are lots of myths about it," said Ali. "It was sold in Measham but made in little potteries round about, from the mid-1870s until the First World War. The style is high Victorian.
"The teapots became popular with narrowboat owners not just for back cabins or presents but to put a mark-up on them and sell wherever they went. We came across one with the name of a pub in North Shields on it!"
Ali and Tim, their free-range pet (a black Muscovy duck) and liveaboard Caretta are based at the Ashby Canal Centre, Stoke Golding, over the winter – not far from Measham.
Meashamware is only one of many types of small antique sold on board, from miniature brass windlasses and copperware – "The sort of thing they go mad for in the States," Tim told me – to pictures and ribbon plates.
Dabbling in antiques
Ali, from Hamble on the south coast, where she grew up sailing National 12 dinghies with the local club, has been dabbling in antiques since the age of four.
"I've still got the first thing I bought: a His Master's Voice tin of gramophone needles," she said. "I used to go to country house sales with my grandmother, and I remember bidding for it."
Hamble is where Ali and Tim met, 21 years ago, when he turned up in the pub she was running. He is from Cape Town and joined the South African navy after school.
"I'd been sailing since I was 10 – my dad had a boat – and I've done all sorts of things as a professional yachtsman since leaving the navy, all over the world: working in the charter industry and on large private yachts; and acting as shore crew for the Whitbread Round the World Race."
The couple moved to South Africa in 2001, where Tim built superyachts and Ali worked in the national parks. There she indulged her love of chelonians – turtles to you and me – and 
other wildlife.
"I took my work home with me. Sometimes there'd be a house full of penguins! We rescued a couple of loggerhead turtles – Caretta caretta in Latin, hence the name of the boat."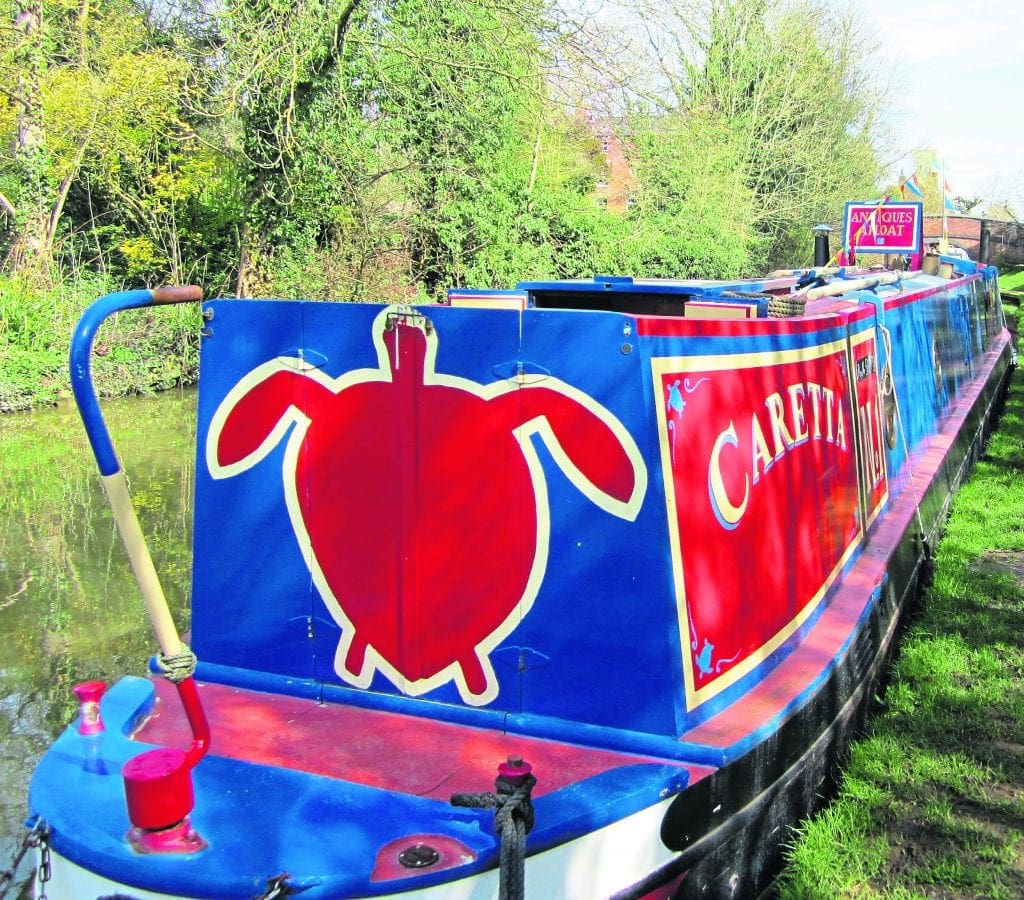 Trial and error
Returning from South Africa, they lived in Cornwall, where Tim was involved in another superyacht project and Ali couldn't find congenial work, so she started the antiques business.
"It was trial and error at first," she said. "I had a lot of personal items which I put in the stock, and I started going to auctions, just choosing things I liked. I concentrated on treen and boxes and maritime items."
Nowadays, of course, the internet and commission bids provide access to new stock from auctions anywhere in the world.
After two years Tim joined her in the business, and when in 2008 they sold their South African house, having owned various sailing boats together over the years, they decided to do away with bricks and mortar altogether.
They bought Caretta, a 57-footer with a semi-trad stern, built by Cheshire Narrowboats at Lymm, as a sailaway shell. Tim did most of the fitting out within three months. The boat is gas-free, and the cooking, heating and hot water comes from a Heritage diesel range cooker.
In 2011 they got a Roving Canal Traders' Licence.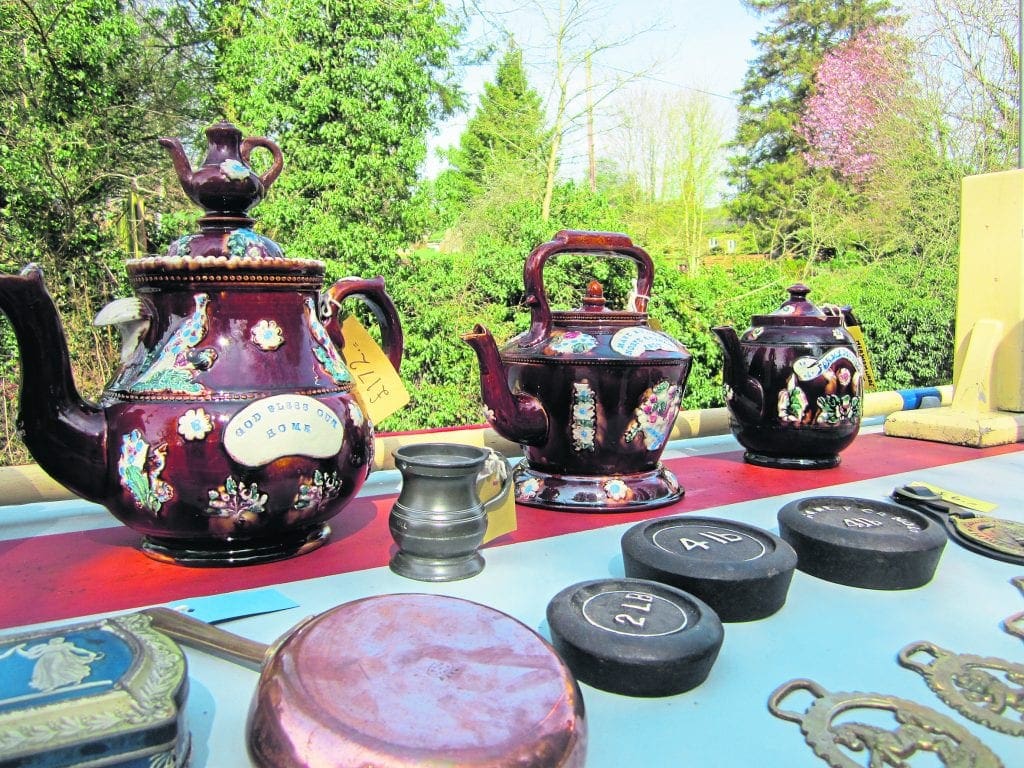 Treen and marine
"We started Antiques Afloat because of the canal side of the treen and marine business; people who had boats with back cabin stuff they didn't want would contact us, and we'd buy their Buckby cans or whatever."
They have a land-based showroom, selling larger items, in Husbands Bosworth, and travel all over the canal network, returning to base every six weeks to restock and supporting as many RCTA markets as possible.
"We like to vary our circuits," said Ali. "Two years ago we went to Hebden Bridge, for the start of the Tour de France. That was an amazing trip."
I wondered if inland waterways seemed a little tame after so much ocean sailing.
"No" Tim said, "it's a lot less stressful. It's my ideal thing: plenty of pubs with real ale; and boating and countryside in one go!"
Comments
comments