Julie Webb meets 'the cheesies' who help to preserve a centuries-old tradition.
FANS of Patrick O'Brian's novels of shipboard life in Napoleonic times will remember how the two friends Aubrey and Maturin always followed an evening's music with a snack of toasted cheese, brought to them in a silver chafing dish.
Cheese has an illustrious history as a staple of long voyages because of its keeping qualities and nutritional value as well as its tastiness, so Geraldine and Michael Prescott, who travel the canals supplying a range of cheeses and chutneys to waterway communities, are helping to maintain a centuries-old tradition.
Geraldine, a retired secretary, was born in India, where her father was in the Army. Michael, from Doncaster, is a marine electrician. They married in 1995 and rented a cottage in Bath for a while.
"We decided to do something different," said Geraldine. "We bought an old boat and Michael refurbished it, then in 2006 my mum died and left me some money, so we had the shell of this one built by Liverpool Boats.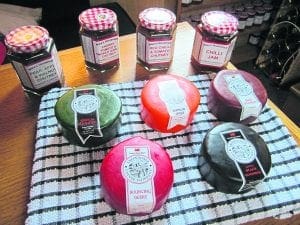 "By this time Michael's neck and knees had started to go. He couldn't get into engine rooms any more – ("I could get in," interrupted Michael, "but I couldn't get out!") – so we were looking for something else to do.
"We stopped at a village on the Staffordshire & Worcestershire Canal and went into a shop which happened to stock Snowdonia cheese. We bought some and tried it, and a light bulb came on. We phoned the company at their headquarters in Rhyl and they thought it was a brilliant idea: the MD calls us his 'flagship'!
"It was quite expensive setting up: there are five refrigeration units and a freezer, and 10 batteries in the engine room which have to be replaced every two years. We used credit cards until we began to make a bit 
of money."
Michael continued: "We started by thinking if we sold 10 a day we'd be happy. But now, take Linslade Canal Festival for instance, we sold 308 cheeses between 11am and 5pm! You knew where the Cheese Boat was because you could see the queue along the towpath.
"People don't come out in the rain but they'll come out in the cold. Once at Braunston the snow was inches thick but it was heaving with visitors."
Four years ago they were iced in for six weeks outside the Greyhound at Sutton Stop – not a bad place for an enforced stay, and accessible to local deliverers of gas, coal and groceries. They enjoy the camaraderie and reciprocal relationships of the cut.
"Everybody looks after each other" said Geraldine. "We've even sent parcels of cheese from A to B by boaters going in various stages!"
Popular Feature
The itinerary of the 65ft Cheese Boat is planned around events the Prescotts are asked to attend. Trying to support new ventures as well, where they can, they travel between Stafford and London, and down the Oxford Canal as far as Thrupp. They're regulars at Foxton Locks and Hawkesbury Junction, Braunston (for the historic boats rally), and Blisworth and Stoke Bruerne, where they're a popular feature of Christmas markets.
"A cheese and a jar of chutney make a good present," 
said Geraldine.
Cheeses come in colourfully waxed 200g mini truckles, and the chutneys – their natural accompaniment – have attractive gingham-patterned lids. To keep life simple, everything costs £4.
The Mike of the 'Mike's Homemade Chutney' label is not Michael Prescott but 
award-winning preserve maker Mike Dentith, of Woodseaves 
in Shropshire.
"He moved house and found he had a load of pumpkins, so he made pumpkin this and pumpkin that and they just took off," said Geraldine. "One day he knocked on our door, so we bought 50 jars to see how they went."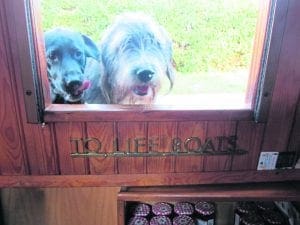 They added a third line, in response to customer demand. "People kept asking for blue and cream cheeses so we now work with a second cheese company, Caws Cenarth in Cardigan. Both deliver the following day if we give them a postcode."
The boat is inspected regularly, of course, by environmental health officers. Cheeses bear a 'best before' date of three or four months from manufacture, and will keep well when opened if wrapped in cling film, says Geraldine – who also related this warning tale on the subject of how to serve them.
"We had one lovely old gentleman customer who sampled the tasters and bought three cheeses. Next morning he was outside wanting a refund because they weren't like the ones he'd tried. 'The wax gets stuck in my teeth,' he said!"
For more information visit: www.TheCheeseBoat.co.uk
Comments
comments