Noah Price visits the colourful Bedworth Charity Dockyard.
THE Bedworth Charity Dockyard, situated on the Coventry Canal arm, is surely one of the most extraordinary sights anyone can see on the UK inland waterways. It is part-boatyard, scrapyard, farmyard, garden and outdoor art installation.
Admittedly, it's the eye-catching mannequins, displayed in conceptual arrangements along the bank, which are the dockyard's main attraction. However, cruising past this sight – even at the pace of a narrowboat – does not give an onlooker a sufficient amount of time to take it all in, so I decided to visit the dockyard to fully satisfy my curiosity.
Third generation
Tucked behind an unassuming row of council houses, I found a side lane which led me to the entrance of the scrapyard area. This is where I met Pete Gilbert, 55, the cloth-capped owner of the Charity Dockyard.
Pete is the third generation of his family to work at the Charity Dockyard. It was his great-grandfather, John Griffiths, who built up the dockyard after being awarded a lease by the local Nicholas Chamberlain Charity Trust during the 1930s.
Pete's son Ryan, however, has not followed in his dad's footsteps. "I tried to get him working on the dry dock once," Pete said, with a smile, "but he doesn't like getting his hands dirty. I don't blame him though – it's a dirty old job."
Ryan, 30, currently works as a paint sprayer for a multinational car manufacturer, which gives Pete the hope that he may one day want to transfer his skills to the dockyard.
In recent years, the Charity Dockyard has had to make some alterations to its services in order to adapt to the changing demands of the times. "We do a bit of everything here," Pete said. "We not only do boat repairs but we also do bike and car repairs. So, if one trade is a bit slack, we can keep work going."
But Pete does feel that the dockyard is just one of many on the canals that are currently being edged into redundancy by innovations in technology and mass production.
"Dockyards up and down the country are in decline," he said. "The canal is becoming more and more commercialised and I think once the canal loses its heritage it will lose its identity. When people go on holiday on the canal, it's the old working boats that they want to see the most, they don't want to see all these hire boats which are churned out in factories."
I had to ask Pete about the mannequin displays on the bank: "Oh, that's got nothing to do with me," he said, with a smile. "My wife, Elaine, started that. She's an artist. You'll have to ask her about it."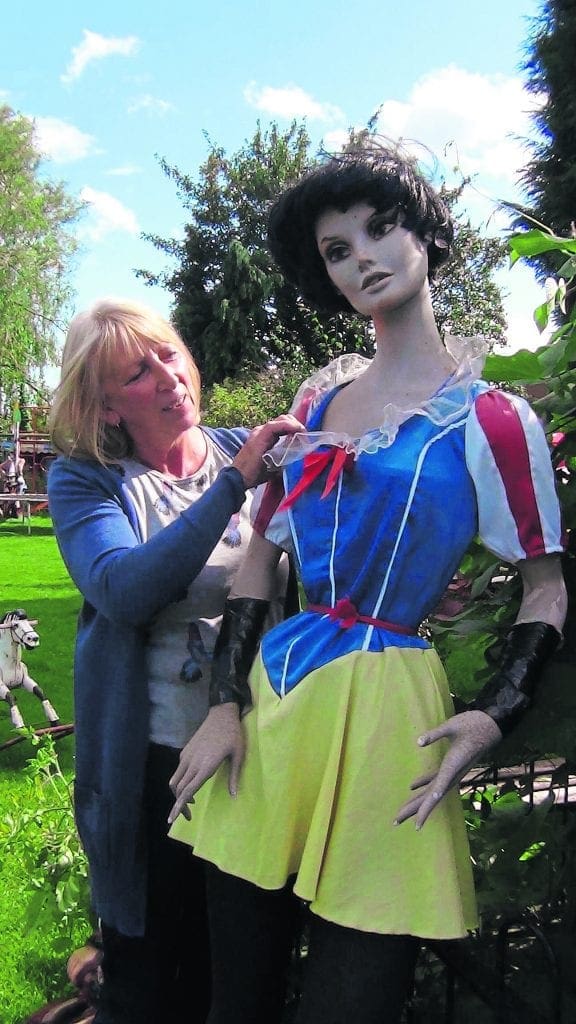 Elaine's wonderland
Leaving the scrapyard I found a different kind of clutter – a collector's haven of gnomes, traditional African masks, ornate garden sculptures and all types of bric-a-brac; a collection which is the result of many years of Elaine and Pete scouring jumble sales, farm sales and antique fairs.
Then, of course, there are the mannequins. I caught myself jumping out of my skin a few times thinking that, for a split-second, they were real. But the mannequin arrangements are not sinister at all; they are fun and playful, and an expression of Elaine's quirky creativity and sense of humour.
I asked Elaine where the idea of displaying the mannequins came from. "When I first came to this dockyard," she said, "it wasn't very colourful, so I wanted to add a bit of colour to it. We had these mannequins lying about and, just for fun, I dressed them all up one Christmas and put them out on the bank.
"Then when we took them down, some of the boaters passing by would shout: 'Where are the mannequins?' So, by public demand it would seem, we brought them out again but dressed them up in bikinis for 
the summer."
Since then Elaine has had to keep thinking of new themes for the mannequin displays to entertain the passing boaters: "It is quite hard work. It takes about a day to dress them all up and put them out on the bank but it is worth it. If people are on holiday, there's not always a lot to see on the canal, so when they pass by here – they love it."
Comments
comments