Environment Agency enforcement officer Nick McKie-Smith started his boating career on continental holiday cruises. Elizabeth Rogers finds out more.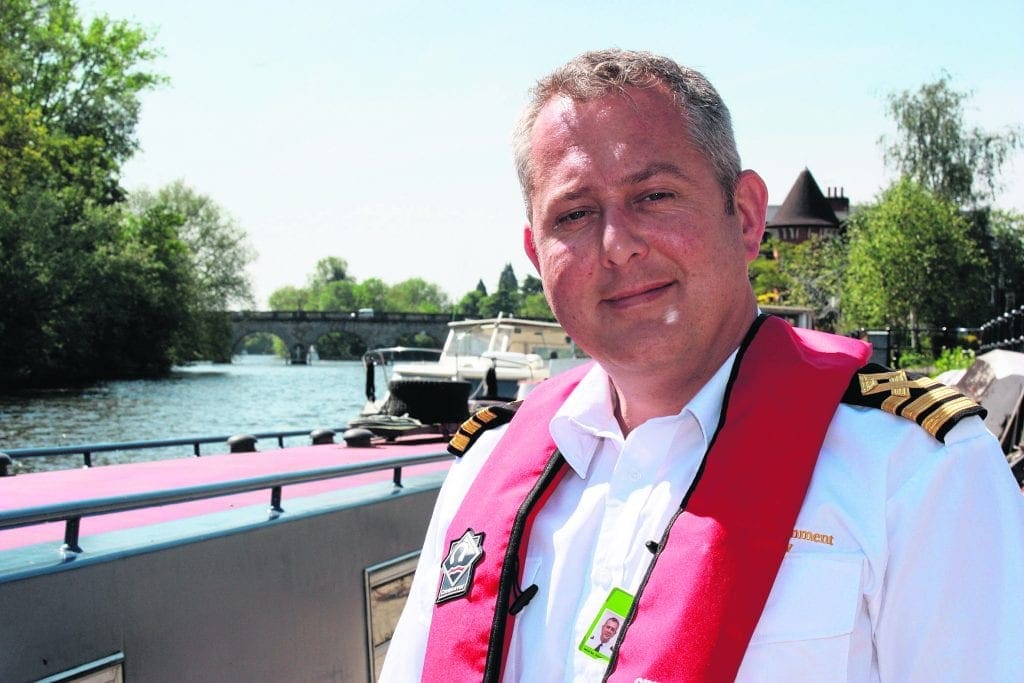 THE scenic stretches of the River Thames have been the home waters of Nick McKie-Smith for more than 20 years, but before he began his career on the waterways of England 
he had explored rivers much farther afield.
His role now is as an Environment Agency assistant harbourmaster and enforcement officer for the whole length of the non-tidal river. But he has spent virtually all his working life afloat, starting out on boats that provided waterway tours 
for holiday-making passengers with the theme of 'floating through Europe'.
France, Holland and Belgium were included in the itineraries for up to 24 passengers on the larger vessels and a maximum of eight on the smaller. As well as the skipper and crew members, there were stewarding staff and a chef.
A bonus for captain and crew, as these were cruises in the luxury class, was the haute cuisine served up by the chef. "It was amazing food," Nick remembered. "Although we ate in our own quarters we shared the same menus as the guests. It was all great fun, really good. Most of the people on board were fairly young, in their 20s and 30s."
Nick worked his way up to being master of the boats by starting as a deckhand and gaining increasing experience. He gained his full qualifications after successfully completing an assessment with an examiner, which took place in Nancy, France and gained him his 
pilot's licence.
He successfully demonstrated his skills in boat handling, his knowledge of the French language in order to be able to read the local signage, his familiarity with flags, his efficiency in passing through locks, and his answers in the oral section of the examination, while the examiner was making repeated reference to the fact that all flats close to the river had washing hanging out of 
the windows.
Nick went on to captain a larger vessel, a 128ft Dutch passenger barge, while working in Holland.
He enjoyed this lifestyle for three or four years. "It got the travelling bug out of my system," he said.
Next step
So back to England, and a search for the next step in his career on the rivers for Nick. He worked for a boat operator initially, while waiting and hoping for an opportunity for an opening for him to join the staff of the Environment Agency. "I used to see its patrol boats on the river and thought how much I would like to be able to do the type of work that they did," he said.
"I kept calling in at the offices at Boulters Lock and asked the secretary there if any vacancies were coming up, four times without any hopeful reply. Then on my fifth visit I was invited for an interview for a boatman's job. This included looking after patrol boats, preparing them for navigation and inspections and keeping the fleet maintained.
"That was in 1995 and was my first role in a job that I continued for the next two years. My next was as patrol officer from 1997 for three years, and in that role I would go out checking registrations and other matters of regulations. Then in 2000 I became a navigation inspector carrying out patrols on the river, reporting issues and matters relating to enforcements. That gained me one gold ring on my uniform and I wanted to work my way up that particular ladder.
"Waterways officers wear one ring, technical officers one-and-a-half, team leaders two and assistant harbourmasters three. The highest level is the four rings worn by the harbourmaster – the equivalent of 'the captain of the ship'. Four rings are worn by our waterways manager, Barry Russell," he explained.
"As assistant harbourmaster my present role is as enforcement officer. Enforcement is the greatest part of my role, but not all of it. It also includes management of incidents and events on the River Thames."
This brings for Nick interesting experiences, managing at such events as the Henley Royal Regatta, where the agency's officers work together with those of Thames Valley Police. And in 2012 there were the waterway events for the London Olympics, which were held at Eton Dorney.
For events such as competitive races and challenges, Nick is involved in the licensing procedures – for those such as the Devizes to Westminster canoe races, and others of varying size along the river's non-tidal stretches.
Equal access
The role of the enforcement officer is of great importance in ensuring that all regulations are kept and fees duly paid.
"We make sure that all boats on the river are correctly licensed," said Nick. "All those kept on the water require this.
"That income is very important to the Environment Agency. It is vital in ensuring that we can continue to maintain our levels of service.
"We regulate our own moorings and support other landowners in regulating those that they operate. It is important that there is equal access for all river boat users, and that users do not overstay their moorings.
"Any structure such as a landing-stage has to be licensed by us, and that process is part of our role. And there is making sure that boats do not exceed the regulation speed limits."
On the issue of registration, Nick is very pleased to be able to report that thanks to the work of enforcement, the level of evasion of the licensing fee is now down to 5%. "That is the best rate among waterways throughout the country. And it ensures that our income is being protected," he can say with pride.
The Environment Agency often receives reports from the public of a boat seen not showing the correct registration plates, but Nick points out that this does not necessarily mean that the owners are offenders as investigations may find that the plates are merely obscured. Like the former car registration discs, registration plates show a different colour each year and indicate the licence is up to date.
His current role since 2011 and those along the way give Nick great satisfaction. Boats have been important to him since he was a teenager. His father was serving in the forces and one of his postings was to Cyprus, where the young Nick soon gained an interest in sailing.
He and his wife Wanda have a 23ft Seamaster yacht on which they enjoy trips with their two children and with relatives and friends. The Marlin originally had a mast, but Nick removed it as he felt that the boat looked more traditional without it, and it would have been a problem when he wanted to go under 
a bridge.
As well as the enjoyable lifestyle that the river has provided for Nick, it also led to his introduction to his wife, who also was working on tourist boats on the Thames.
Comments
comments