Reviewer: Robert Davies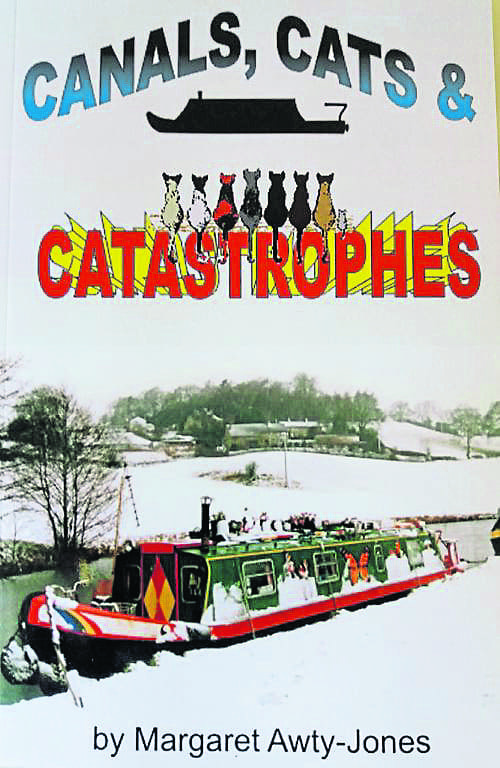 HERE is a book that provides a very useful insight into the ups and downs of living aboard a narrowboat. A crew of two or three cats on board creates a 'feline feel' that adds another dimension to the story in Canals, Cats & Catastrophes by Margaret Awty-Jones.
The author and her partner got together later in life and, although he was an ex-Mersey Ferry skipper, neither of them had any previous experience of boating and living on the inland waterways. Having initially ventured forth on a 10ft wide cruiser, they decided that living aboard was a gamble worth taking. They purchased a 42ft narrowboat and made their maiden voyage from Skipton to Wigan, where they had some work done to the boat. At this stage they had not committed to living aboard and confined their learning curve to the Leeds & Liverpool Canal.
When they did finally become what the author describes as 'water gypsies' they took their two cats on board, having previously left them with friends. The cats' presence did not prevent a mouse stowing away on board! This is when they ventured south and began extending their 
cruising horizons.
The author provides a blow-by-blow account of their experiences and adventures – mainly good but some not so good. She does not baulk from admitting when their inexperience demonstrated how not to do it. All this took place in the 1990s and they spent many years travelling around the system. The story is told in a light-hearted manner although it was not all 'plain sailing' with numerous challenges, tragedy and heartache a feature. The 'ship's cats' are very much part of the story; their behaviour and antics providing some amusing incidents.
The happiness that this couple enjoyed helped to overcome the difficulties encountered and they certainly loved the way of life. Anyone contemplating taking up a life on the waterways would benefit from reading this book first to learn about the pitfalls as well as the joys involved. The writing style is 'chatty' and the pages are liberally supplemented with humorous cartoon-style illustrations. The book extends to some 290 pages and has a cover price of £12.99.
Canals, Cats & Catastrophes by Margaret Awty-Jones is published by Merseyman Books in paperback, and is available to Towpath Talk readers for £6.50 plus £2.50 p&p. Order direct from Margaret at 20 Bawhead Road, Earby, Lancashire BB18 6PE, cheque made payable to Margaret Awty-Jones, contact 01282 844902; merseymanbooks@gmail.com
ISBN: 978-9569429-1-3
Comments
comments