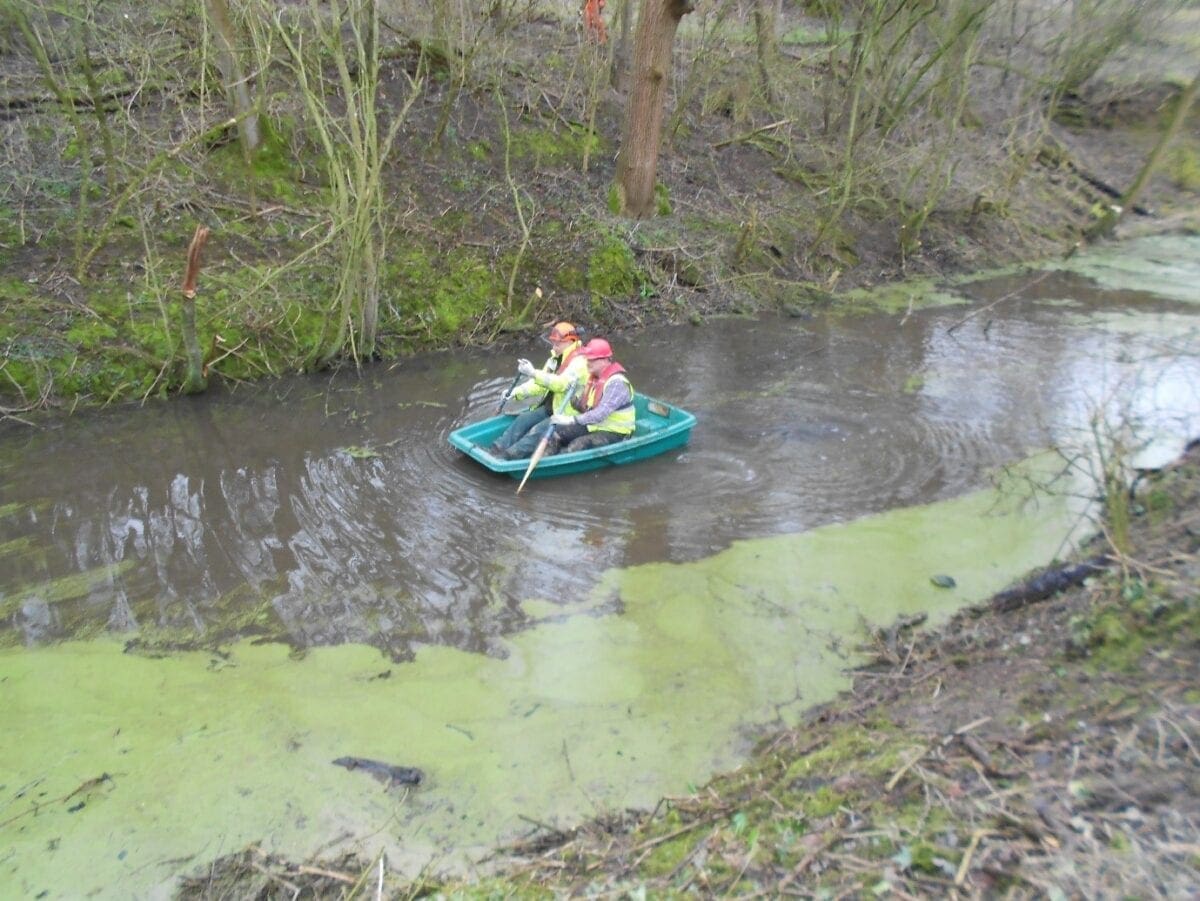 WORK to restore the entrance to a long-ignored canal tunnel and create an attractive all-abilities towpath walk for communities near Shrewsbury got a big boost from Waterway Recovery Group's first canal camp of 2018.
Fourteen WRG volunteers spent the week-long camp working together with local volunteers from the Shrewsbury & Newport Canals Trust (SNCT) at the North Portal of the Berwick Tunnel on the former Shrewsbury Canal.
 The volunteers opened up around 200m of towpath extending out from the tunnel portal and installed gating and fencing to allow further work to continue in future. The capping stones at the tunnel entrance and the stonework behind the lengthsman's hut were exposed, and these will see further work done by SNCT volunteers, with WRG returning for an additional camp in May.
WRG Canal Camp Leader, Ian Gaston, said; "The Shrewsbury Canal Camp was a resounding success. The team quickly bonded and the first task to secure the site and set up a compound for materials was completed in record time. This allowed the team to focus on the main task of clearing the canal, and they should be proud of all they achieved."
 The 887m (970yd) Berwick Tunnel is the only tunnel on the Shrewsbury & Newport Canals, and used to connect Berwick Wharf through to Uffington and onwards to Shrewsbury.
 Alistair Price of the Shrewsbury & Newport Canals Trust commented; "This is a very successful start to the first phase of the plan to restore the 3440m (2.1 miles) of the section of canal known as the Berwick Loop which, it is hoped, will provide a popular attraction in its own right as well as a very attractive section of the restored Shrewsbury and Newport Canals."
 This year's aim is to remove the tree roots from the tunnel entrance stonework to allow it to be re-mortared back into place. Eventually, SNCT would like to restore the damaged portal, rebuild the lengthsman's hut and create an all-ability circular walk down the towpath to the A5 and back along the opposite bank. The long term aim of the project by the Shrewsbury & Newport Canal Trust is to reopen the length of the canal from Norbury Junction through to Shrewsbury.
Comments
comments