WITH an increasing number of vessels being torched or taken by joy riders, River Canal Rescue is calling for boat and marina owners to be extra vigilant.
The firm typically deals with one to two burnt-out or vandalised boats a year, but in a six week period around September it was called out to three and in the last 12 months has salvaged 10.
Examples include a 40ft widebeam set alight near Kegworth on the river Soar, burning it below the water line and causing it to sink.  Despite size and accessibility issues, RCR raised the vessel.
Two boats stolen on the Coventry and Trent & Mersey canals; in order to hide one of the vessel's identity, thieves re-painted it while the other was vandalised and items were stolen. Having been recovered, repairs are now under way.
A vessel on the South Oxford canal, stolen, grounded and abandoned. The owner managed to recover it before any further damage was sustained and RCR assisted with its re-float. This was the second incident RCR had attended in the local area.
A 35ft narrowboat moored at Fradley Junction (joining the Trent & Mersey and Coventry canals), suffered fire damage and a vessel on the Worcester & Birmingham canal was completely gutted. Both were refloated and recovered.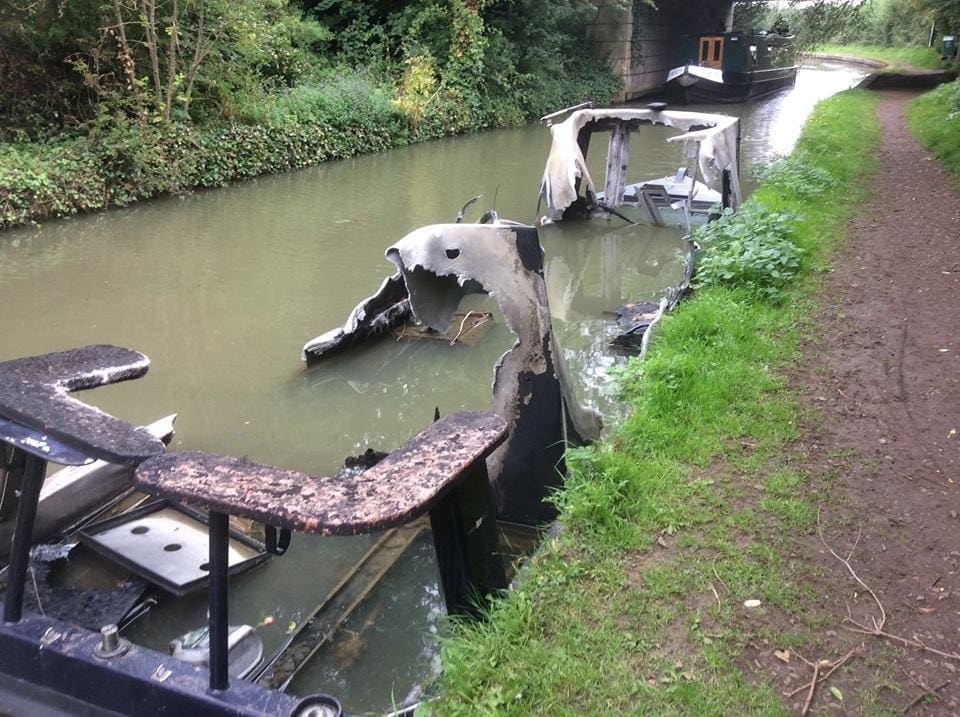 One of the more challenging rescues was posed by a burnt-out Sea Otter narrowboat. Its remains were found near Braunston Marina in August, causing concerns for recovery, particularly as it was in such a remote location with no vehicle access.
The heat from the fire melted the aluminium hull below the waterline so when RCR engineers were called to attend in September, they knew pumping-out was not an option. There was also no access for a crane and not enough depth of water to use air bags to assist with the raising. Never short of new ideas, the team used plywood to make new sides for the boat and once in place pumped-out the vessel and refloated her.
As the hull was in such poor shape, it urgently needed to be lifted out of the water so the team contacted local firm Union Carriers to arrange a tow, Braunston Marina to agree access and Tuggies Crane to arrange crane and transportation. Within 50 minutes everything was in place to ensure the boat was lifted and transported away from site.
RCR managing director, Stephanie Horton, comments: "The crime of joy-riding appears to be spilling from the roads onto our inland waterways, particularly on the Oxford, Coventry and Grand Union canals in a triangle from Nottingham via Braunston to Oxford and Warwick.
"In the past boats were typically taken by people who wanted to steal outboards, batteries and anything that could be sold. They would however leave the vessel intact. But now their actions are akin to mindless vandalism and unfortunately, the damage is usually so severe and too large a project to take on, the burnt-out vessels usually end up being disposed of. This impacts on the environment and owner."
Stephanie concludes: "Because of the restriction on where boats can be taken, theft is considered low-risk by boaters and insurance companies. Yet they are easy to break into and easy targets for those with intent, particularly when you consider the time they are left unattended and how simple it is to change their identity. In the absence of any registration system, and criminals viewing it as an easy way to raise cash, I fear these types of crimes will continue to increase."
Comments
comments