THE  Leicestershire-based Baldwin Trust has launched a new narrowboat fundraising scheme:  "Put a foot in the water for The Baldwin Trust" Part 2!
Last year saw a severe downturn in the charity's revenue, due to the unprecedented amount of rainfall, causing the rivers and canals to be closed by the authorities.
This resulted in the trust having to cancel many of the pre-booked cruises in the summer and autumn, its busiest time of the year.
The weather and river conditions also severely affected planning to provide Santa Cruises throughout December, despite Santa being booked and all the presents ready to give out!
Founding narrowboat St Clare has, due to her age (she has cruised for the Trust for 31 years), incurred repeated mechanical failures, leading to high repair costs and cancelled cruises.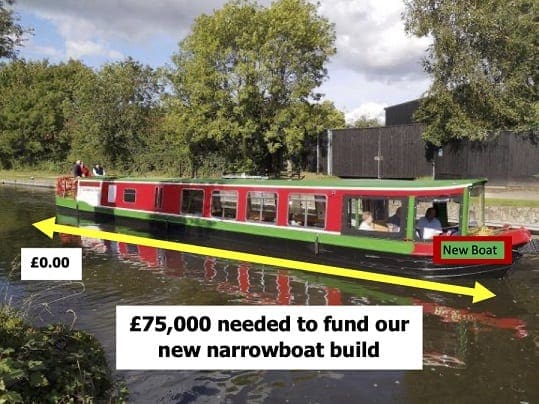 The Trustees have made the very difficult decision to retire her from service for the 2020 season. The trust therefore needs to accelerate its fundraising, in order to acquire a second new narrowboat.
This will be built at the end of 2020 ready for the 2021 season, to bring the fleet up to three boats. "It will allow us to continue to provide a valuable recreational activity for the community and remove uncertainty from our operation as we strive for self-sufficiency in the future," a spokesman said.
"Plans for our new boat include additional and improved equipment for the physically and mentally disadvantaged users. We are also considering the use of more environmentally friendly forms of power and doing our bit to protect our environment whilst, at the same time, providing sensory
facilities and improved handling techniques to cater for the more severely disadvantaged clients and users.
"We are working hard to build up our links with local organisations and would like to increase our reach with new contacts with Dementia and Stroke Associations during the coming year.
The trust has some donated funds already allocated but requires a further £75,000 to be able to make this a reality. Remaining cost per foot required = £1100.
If you are able to donate for 'a foot' or towards a smaller part of the new boat this can either be done securely online https://www.baldwintrust.co.uk/index.php/the-trust/donate
Or by emailing Secretary@baldwintrust.co.uk and further details can be provided.
If you would prefer to donate towards a specific item the following are currently required;
• Disability toilet
• Wheelchair lift
• Internal furniture
• Wheelchair ramp
• Fully fitted kitchen / galley facilities
• Engine, fitted and commissioned
• Gear box and stern gland
• Internal electrics and plumbing
The Baldwin Trust was set up in the 1980s to provide a recreational activity for patients of the Baldwin Ward at a former Leicestershire hospital, with the object of enhancing their lives and allowing them enjoyable times outside of the hospital.
"Our main mission is to reach all members of our community that may experience loneliness or isolation at any time due to physical, mental
or economic reasons.
The legacy continues, as we provide private, crewed narrowboat cruises for the community on Leicestershire's waterways, all operated by a wonderful, friendly team of trained volunteers on our 12 passenger, and adapted narrowboats.
We now have 75 unpaid, local volunteers working hard
to provide this service.
The design of our narrowboats incorporates many features which enhance the cruise experience for our clients – ramps and lifts for wheelchair and walking frame users or those with limited mobility, spacious cabins and an adapted toilet with space for carer access, plus fully equipped
galley kitchens.
For any other information and bookings visit our web site www.baldwintrust.co.uk, email secretary@baldwintrust.co.uk or call the bookings line on 07923 817718.
Enjoy more Towpath Talk reading in the monthly paper.
Click here
to subscribe.
Comments
comments