Spring seems to have well and truly sprung – apart from a few unseasonal days when snow fell in some parts of Scotland and northern England. Well, it is Britain, so what can we expect…?
Even though the weather can be a bit uncertain and temperamental around this time of year, you can guarantee that Towpath Talk will bring you the hottest news and the most colourful images. Take the one on the cover, for example, highlighting the Inland Waterways Association's annual Canalway Cavalcade at Little Venice in London at the end of April. Hopefully there'll be lots of sunshine to show off the boats to best effect again this year!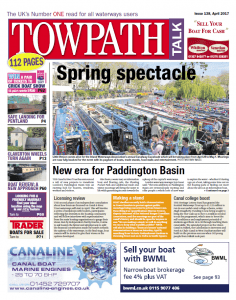 Editor Janet Richardson has been out and about, discovering what's going on across our glorious waterways and keeping you up to date with places to go, canals to visit and events to enjoy over the summer.
Phil Pickin heads to Merseyside to meet Kevin and Susan Kenny, who have spent 25 years in the automotive industry but now build 'off the peg' narrowboats.
Regular contributors Phillippa Greenwood and Martine O'Callaghan unearth a hidden Tudor gem in delightful Devon. Cracker the boat horse offers more canalside news straight from the horse's mouth, and there's another tasty recipe from the creative cuisine of Anna Pettigrew that you could easily rustle up in your galley kitchen.
For boaters who are preparing to take to the water again, there are helpful tips about de-wintering your vessel and plenty of news and readers' letters. There are also holiday ideas and suggestions for places to eat and drink, as well as pages packed with advertisements for marinas, chandleries and boats of all sizes and styles for sale.
So whether you're about to set off for a summer's cruising, are dipping a toe into the water as far as owning a boat is concerned, or looking to upgrade your current craft, Towpath Talk is the number one publication for news, views and boat trading. Why not subscribe today and get it delivered every month to your door – or check out the latest pages here. And don't forget, you can keep up with news on the Towpath Talk Facebook page too. Happy cruising!
Comments
comments