Nottingham Boat Company is attracting loads of interest in its wide beam range of boats. Phil Pickin went to find out why.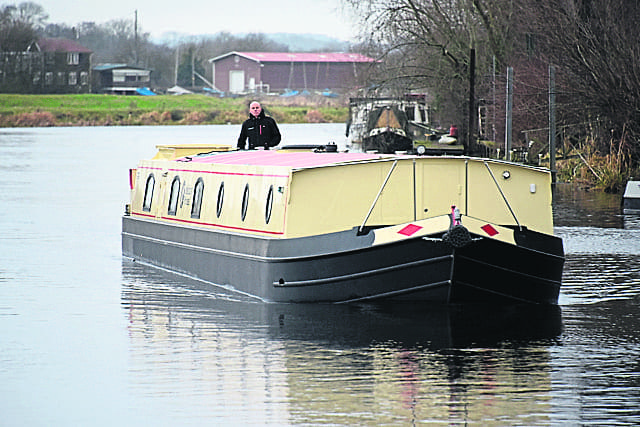 IT'S funny how tastes change and how trends establish themselves. Until recently Nottingham Boat Company had built and sold boats right across the size and style range but now the majority seem to be wide beams, so Les Robinson tells us. And not only that but the speed at which the recent builds have sold has also changed, thankfully for the better, with boats selling in under half a day after completion.
Their most recent boat Halsbury Princess was no exception and we managed to catch up with it on a cold and grey January morning shortly before it headed to its home moorings in Brentford. Having got to see the latest example of their Galaxy range you can quickly see why people, who are in a position to make this type of investment, do so soon after taking a look at them. Even if you look beyond the novelty of the newness of the boats you can't fail to notice the quality of the build. When you take into consideration their size and their value for money you can see why many people (especially in the London area) look seriously at these as a viable alternative to trying to buy a conventional home.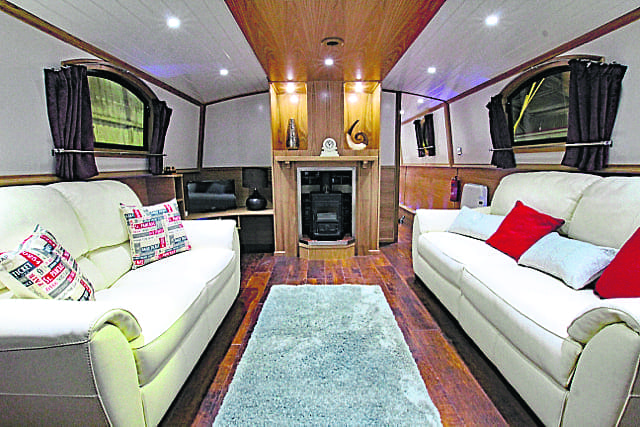 So what do you get for your money? Well, you get a Tyler Wilson hull coming in at 70ft x 12ft with an enclosed 7ft stern and an almost 8ft bow. In this case you enter from this sizeable stern deck area into the galley which seems to have acres of grey quartz worktop. This matches the splashback and both sparkle under the LED lighting. A stainless steel sink is inset, as is a four-ring gas hob. A gas oven and integrated fridge and freezer are also fitted, as is a 240v washing machine. The LED lighting is inset into a white ceiling and the light levels are helped by two arch-topped windows making the whole area very bright and light.
Moving forward you come into the main living area which has been furnished with freestanding seats specified by the owner. The room has two side hatches, four arch-top double glazed windows and two portholes in the hallway. Heating is provided by fin-rads hidden in vented solid wood boxing and is supplemented by a couple of wall-mounted electric heaters. With a Morso solid fuel heater being the feature point in the saloon I doubt you will get cold in this boat. A nice touch are the blue LED lights inset into the lower heating vents to provide running lights along the main route through the boat. Another has been the addition of a Webasto skylight that is electrically operated to allow you to open it fully at the flick of a switch. On a warm day it should provide fresh air and extra light to an already light interior.
Moving further forward you come to a bedroom with a Rock and Rolla sofa bed, so this room can act as either an office or bedroom. The room has a small desk area to one side as well as storage below the fitted shelves. A nice touch is the sliding door that disappears into the wall when opened, thus saving wall space. A luxury you can enjoy when you have the extra space a wide beam boat offers.
Next you come to a very large and beautifully equipped bathroom. This is not a cramped area and with the extra space on offer the designers have opted to fit an equally large 1200mm x 800mm offset shower enclosure. This is fitted with a thermostatically controlled mixer and large fixed and remote type shower heads. The room is tiled throughout and has a pump-out 12v toilet with electric flush. The result would not look out of place in a high-end hotel.
Continuing forward you come into the main bedroom. This too is a very good-sized room with plenty of storage and a king-sized bed fitted with a memory foam mattress. As you might expect there is under-bed storage, drawers, bedside cabinets and a high-level cupboard either side of the bed. There is a corner wardrobe with sliding doors as well as an adjacent cupboard with a curved end. Solid steel doors provide the exit on to the well deck and this room and it's fitted with porthole-style windows.
The floors throughout the boat are dark Karndean, which contrasts well with the pale or white finishes used as the lining material and in the white ceilings mentioned earlier.
Halsbury Princess is an impressive boat, one in which the new owner must be very satisfied as I understand that he is buying another! Its layout hasn't been compromised with the addition of a second bedroom and as a result the space you get is significant. Having said that, if more sleeping accommodation is required, a third could be provided at the planning stage. The result would be a good-sized home. And I say, 'home' because these boats cost less than half the price of the average home and a fraction of the cost of a home in and around the South East. With this amount of space and this level of quality or finish you can see why more people are seriously looking at boats like this as a viable alternative to living conventionally, in a house or flat.
If you can overcome the potential issues of finding a mooring and if you are not too keen on gardening, this has to be seriously considered as an option for you.
---
Spec Sheet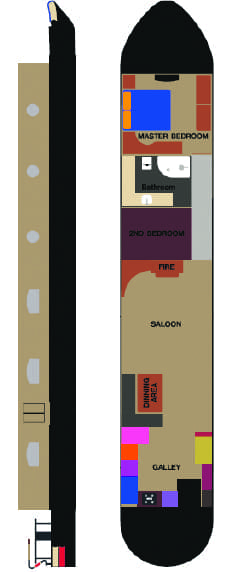 Length/Width: 70ft x 12ft
Plate thickness: Base 10mm/6mm below gunwales/5mm cabin sides/5mm roof
Stern: Enclosed stern with seating with chrome tiller extension
Sliding sun roof: one over saloon with electric control
Windows: Double glazing, three arch-top windows, two portholes, port and starboard
Insulation: 95% closed cell spray foam insulation.
Engine: Vetus VH4.80: 80hp/59kW engine with twin 115amp alternators and hydraulic gearbox, water-cooled with skin tank. Stern gear: water-cooled
Fuel: Integral diesel tanks, about 100gal/450ltr.
Bow thruster: Bow 95kg 12v Vetus Electric
Central heating: Webasto Thermotop C, 5.2kW diesel central heating
Water: Around 1000ltr stainless steel tank, Jabsco Paramax4 Plus water pump with accumulator 
tank 5ltr
Hot water: 75ltr Surecall calorifier/ hot water tank, heated by the engine and 240v-1kW immersion heater.
Lighting: LED
Toilet: Pump-out 12v toilet with electric flush
Electrics: 240v AC and 12v DC electrical systems fitted throughout, 240v land line hook-up connection, Vetus 3000W pure sine Combi Gamma inverter/charger
Starting price for a Galaxy at 60x12ft is £104,000 ex-VAT for standard spec, fully fitted: £125,994 incl VAT
For more information visit
www.nottinghamboatco.com
---
Comments
comments