THREE hundred supporters turned out on Saturday 15 June to "Wave for Waverley", formally launching the £2.3m appeal designed to replace LNER-built PS Waverley's boilers and boiler room control gear to allow her to sail again in 2020.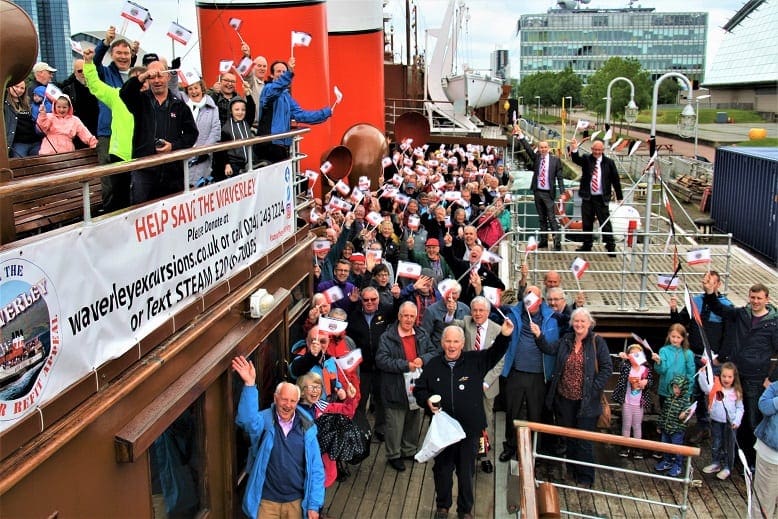 They literally 'flagged up' the cash drive, by waving special flags designed to publicise the boiler refit appeal, after Waverley Excursions chairman Cameron Marshall told the crowd on deck that the race was on to raise the money.
He said: "If we are to sail in 2020, we need to raise the £2.3m as soon as possible. It's vital that everyone supports Waverley in view of her uniqueness and the very real contribution that she makes to the local economy and tourism offering, wherever she goes. If there was only one castle in Scotland, one historic building or church, then everyone, including the government and councils, would be queuing up to save it. As a priceless piece of industrial heritage, Waverley is no different. We must not let her down after 44 successful years in preservation."
Waverley Excursions chief executive Paul Semple, told the enthusiastic supporters: "We are future-proofing the ship for the next 20 to 25 years with new boilers and control gear which will take environmental considerations into account. But the race is on for next year, as it takes six months to manufacture two new boilers and four months to fit them, so we are really up against it for 2020. The key is funding, and I appeal to everyone here and all communities, supporters, enthusiasts and public bodies, to support us as soon as possible, to ensure that we can go ahead with the new boilers and sail again in 2020."
Attending the launch were MSP Jackie Baillie, who has already asked questions in the Scottish Parliament to request Scottish Government financial support, and MSP Neil Bibby. He said: "It's vital that we save Waverley not just for Glasgow or Scotland, but for all the places she sales to, such as Liverpool, North Wales, the Bristol Channel, the South Coast and Thames, and I am delighted to be here with Jackie today, as confirmed fans of Waverley, to lend our support."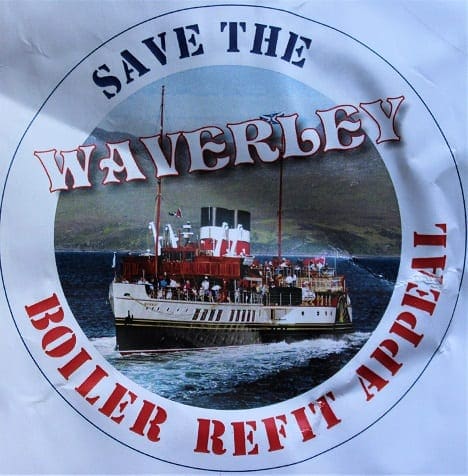 Full details of donating to the boiler appeal are at www.waverleyexcursions.co.uk and there is a text donation facility by texting STEAM, following by £10 or £20 to 70085. ENDS
Enjoy more Towpath Talk reading in the monthly paper.
Click here
to subscribe.
Comments
comments